Description
A fun peek inside an average man cave where two soon-to-be-first-time dads question whether they are up to facing the challenges of fatherhood.
National New Play Network Rolling World Premiere
Cast & Creative Team
Lanny Langston* (Donnie) recently moved to Salt Lake City after receiving his MFA in Acting from the University of Idaho, and is super duper happy to be working with SLAC for the first time and would like to thank everyone involved for making it such a fantastic experience! Recent credits include Saturninus in TITUS ANDRONICUS (Great River Shakespeare Festival in Winona, MN), Benvolio in ROMEO AND JULIET and Eric Sheridan in UNNECESSARY FARCE (Idaho Repertory Theatre), Walter in UP, Guy in SOME GIRLS, Howie in RABBIT HOLE (University of Idaho), Paris in ROMEO AND JULIET (Davis Arts Council) and several other plays at Utah State University and Dixie State College. Thank you to my awesome, lovely wife for being ACTUALLY pregnant, and for loaning me out every night even though I know you'd rather be watching Buffy the Vampire Slayer with me. And to my equally lovely daughter for being such a joy in my life. I'll be home soon!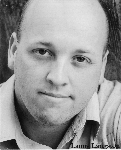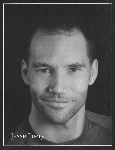 Jesse Peery*(Raymond) In keeping with the man-theme, Jesse was last seen on the SLAC stage in the world premiere of (A MAN ENTERS) and, before that, he was privileged to be part of the cast for the celebrity reading of SOME MEN at the Rose Wagner Performing Arts Center with special guest Terrence McNally. Other regional roles include the M.C. in CHICAGO for Dark Horse Company Theatre, Court in The New Works Theatre Machine's world premiere of RIDE ME: A PLAY WITH CRUEL INTENTIONS, Austin in TRUE WEST and Rick in SIX DEGREES OF SEPARATION for Wasatch Theatre Company, himself for Pygmalion Theatre Company's WELL, Danny in DANNY AND THE DEEP BLUE SEA for the Egyptian Studio Theatre in Park City, and Pale in the Utah Theatre Artists Company production of BURN THIS, While a repertory artist for the Juilliard Conservatory in Chautauqua, New York, Jesse's credits included Michael in A.R. Gurney's THE DINING ROOM, and Malvolio in TWELFTH NIGHT. His next project will be sharing the stage with a man-tastic cast in A NIGHT WITH THE FAMILY for Pygmalion Theatre Company! Thank you, Tracy.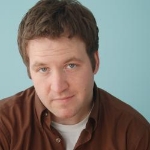 Sean Christopher Lewis(Playwright) can be heard as a commentator on NPR'S This American Life. His plays have won the Kennedy Center's Rosa Parks Award, the 2010 National New Play Network's Smith Prize, the NEA Voices in Community Award, a Puffin Foundation Artists Award, a Barrymore Award from the Theatre Alliance of Greater Philadelphia, a Central Ohio Critic's Circle Citation for Best Touring Production, a Central Ohio Critic's Circle Citation for Best New Work, a National Performance Network Creation Fund Grant, the William Inge Fellowship and more. He served as National New Play Network Emerging Playwright in Residence at Interact Theatre in Philly and as Playwright in Residence at the William Inge Arts Center in Independence, Kansas. His work includes MAYBERRY (Hancher Auditorium, Bucksbaum Performing Arts Center, Iowa Arts Center); KILLADELPHIA (Baltimore Centerstage, Woolly Mammoth, Interact Theatre, Cape May Stage, Adirondack Theatre Festival, Touchstone Theatre, Hartbeat Ensemble, Drilling Company, Riverside Theatre, CSPS/Legion Arts, John Jay University/Gerald W. Lynch Theatre, Available Light Theatre, Revolutions International Theatre Festival); JUST KIDS (Available Light Theatre, Sandglass Theatre, Working Group Theatre, Pontine Theatre); I WILL MAKE YOU ORPHANS (Uno Festival of Solo Performance, Available Light 01 Festival, Equinox Theatre, Riverside Theatre, Center for Independent Artists, Galapagos Art Space, Hyde Park Theatre, TIXE Arts Center, Bowery Poetry Club);THE GONE CHAIR (Penn State University's Cultural Conversations Festival, Openstage Harrisburg's Flying Solo Festival, Riverside Theatre); MILITANT LANGUAGE (National Premiere at Know Theatre of Cincinnati, Halcyon Theatre of Chicago, Bang and Clatter in Cleveland, and Theater for the New City in NY, published by Original Works Publishing); THE APERTURE (Cleveland Public Theatre); THE HOMESCHOOLING OF JONATHAN ANDERSON (Drilling Company NYC, Luna Theater and Theatre of Note); SURVIVING THE BABY (Riverside Theatre); THE TEACHER SHOW (Revolutions International Theatre Festival) andGOODNESS (Project Y Theatre, Clockwise Theatre). He has been a playwriting fellow at the O'Neill Playwrights Conference and has had his work developed at the PlayPenn New Play Conference, Lark New Play Development Center, Orlando Shakespeare Festival's Harriet Lake Festival of New Work and at the National Center for New Plays at Stanford University. He is currently under commission with Davenport Theatricals, Interact Theatre, Hancher Auditorium, Available Light Theatre and Adirondack Theatre Festival. Internationally he has collaborated on MAJNOON SAITARA with the Ashtar Theatre of Palestine and with the International Theatre and Literacy Project he worked on JOURNEY TO THE DREAM a new play by high school students in Tanzania, East Africa. In 2011 he collaborated and directed WE STOOD UP for the Centre X Centre International Theatre Festival in Rwanda that incorporated the performances and stories of 23 orphaned survivors of the genocide. Lewis is also a noted actor, working Off Broadway at the Pearl Theatre, in NYC at La Mama ETC, regionally with companies like the Pennsylvania Shakespeare Festival, in television and feature films from COMEDY CENTRAL'S Upright Citizen's Brigade to GOD'S COUNTRY and his work has been nominated for the Fox Foundation Fellowship and the Princess Grace Theatre Fellowship.
Tracy Callahan(Director) is thrilled to be working once again with SLAC. Former SLAC directing credits include COURSE 86 B IN THE CATALOGUE, SIX YEARS, HOW I LEARNED TO DRIVE, and co-directing MERE MORTALS. She is a freelance director in the Salt Lake Area where she has had the opportunity to direct for Plan-B Theatre and Dark Horse Theatre Company. Tracy is the Head of the Acting and Directing Program at Weber State University where she has directed over 30 productions. Two of her productions have been chosen to be presented at the Kennedy Center For The Performing Arts in Washington DC and several others have been selected to travel to various theatre festivals regionally.
Jennie Sant* (AEA Stage Manager) has worked at Salt Lake Acting Company as the AEA Stage Manger on THE PERSIAN QUARTER and ANGELS IN AMERICA PART I AND II. She has also worked at The Egyptian Theatre Company as the AEA Stage Manager on PAGENT and THE MUSIC MAN. Pioneer Theatre Company as the 1st ASM on LES MISERABLES, PAINT YOUR WAGON, DOUBT, A MIDSUMMER NIGHTS DREAM, THE FOREIGNER, VERTICAL HOUR, and THE PRODUCERS. As well as the AEA ASM on NEXT TO NORMAL. Other credits Stage Managing include ANGELS IN AMERICA PARTS I & II at the Babcock Theatre, TRUE WEST in Studio 115, HENRY V and MEASURE FOR MEASURE for Salt Lake Shakes and TALKING WALES II for Utah Contemporary Theatre. For my Mom who always supported me.
James M. Craig(Lighting Design) has designed the lighting for 40+ shows at SLAC since 1997, most recently for Love, Loss, and What I Wore, Saturday's Voyeur 2012, COURSE 86b IN THE CATALOGUE, DOTTIE-THE SISTER LIVES ON, A MAN ENTERS, GOD OF CARNAGE, SATURDAY'S VOYEUR 2011, CIRCLE MIRROR TRANSFORMATION, BOOM, and ANGELS IN AMERICA. James has also designed lights for Plan-B Theatre, Utah Contemporary Theatre, Utah Musical Theatre, The Egyptian Theatre Company, Peery's Egyptian Theatre, Odyssey Dance Theatre, The Grand Theatre, Weber State University, The Emily Company, Georgia Shakespeare Festival, Virginia Stage Company, The Generic Theatre, Little Theatre of the Rockies, U of U Youth Theatre, U of U Lyric Opera Ensemble, and Theatre Inc. Currently James is the Technical Director for the Park City Performing Arts Foundation. James holds a B.S. in Theatre from Weber State University, and is a member of United Scenic Artists Local 829. Find out more at http://about.me/jamesmcraig
Brenda Van der Wiel (Costume Design) As always, Brenda is happy to be working for SLAC. Brenda is part of the design faculty for the University of Utah Theatre Department. She designs regularly for that department as well as for Pioneer Theatre and for SLAC. Recent works include RENT, CHRISTMAS STORY, NOISES OFF, THE FOREIGNER, YOU CAN'T TAKE IT WITH YOU and EMMA for Pioneer Theatre Company; MUCH ADO ABOUT NOTHING, THE MERRY WIVES OF WINDSOR, DEATH OF A SALESMAN, THE COUNT OF MONTE CRISTO and COMEDY OF ERRORS for Alabama Shakespeare Festival; and BLOODY, BLOODY ANDREW JACKSON, A MAN ENTERS, HOW I BECAME A PIRATE, IF YOU GIVE A MOUSE A COOKIE, CHARM, MASTER CLASS, SIX YEARS, THE CLEAN HOUSE, ROUNDING THIRD and END DAYS for SLAC. She also designed several of the recent SATURDAY'S VOYEUR productions, and all but one of the University of Utah's Classical Greek Festival productions for the last eighteen years. Before moving to Utah, Brendaalso worked at the Seattle Opera, the Santa Fe Opera, and the Utah Shakespearean Festival.
Josh Martin(Sound Design) – is thrilled to be working on another comedy this season. Selected sound designs include BLOODY BLOODY ANDREW JACKSON, SATURDAY'S VOYEUR 2010,2011,2012, GOD OF CARNAGE, (A MAN ENTERS), HOW I BECAME A PIRATE and RED. In addition he is the Master Electrician here at the Salt Lake Acting Company.
Keven Myhre (Set Design, Executive Producer) was chosen to receive the Mayor's Artist Award in the Performing Arts for 2009. Keven was awarded the 2008 City Weekly Award for directing THE CLEAN HOUSE and MOONLIGHT AND MAGNOLIAS at Salt Lake Acting Company. His other directing credits at SLAC are RED, ANGELS IN AMERICA: PARTS 1 & 2, THE OVERWHELMING, RABBIT HOLE, I AM MY OWN WIFE, BAD DATES, KIMERBLY AKIMBO, GOING TO ST. IVES, WATER LILIES, THE MEMORY OF WATER, TWO-HEADED, THE BEAUTY QUEEN OF LEENANE, GROSS INDECENCY: THE THREE TRIALS OF OSCAR WILDE, C'EST MOI in MERE MORTALS, and THREE DAYS OF RAIN. Keven has designed all of SLAC's sets and many of the costumes for the last seventeen years. He also designed sixteen sets for The Grand Theatre, including ALWAYS...PATSY CLINE, JOHNNY GUITAR, MY FAIR LADY, SONG OF SINGAPORE, MORNING'S AT SEVEN, and GODSPELL. ACCORDING TO COYOTE, WEST SIDE STORY, CROW AND WEASEL, and SOUTH PACIFIC were designed for Sundance Theatre. His designs have also been seen at Pioneer Memorial Theatre, Utah Musical Theatre, Egyptian Theatre, Kingsbury Hall and the Babcock Theatre. His work for the Utah Arts Festival includes site design for the 20th Anniversary. He received a BFA from the University of Utah and a MFA in Theatre from the University of Michigan.
Cynthia Fleming (Executive Producer) was first seen at Salt Lake Acting Company in its 1978 production of PIPPIN. Since then she has worn many hats at SLAC – Choreographer, Box Office Manager, Director of Audience Services. She was Creative Director of Communications and Audience Development, leading the Communications Team and overseeing the Box Office and House Management, before taking on her current title of Executive Producer. For 15 years Cynthia has choreographed SLAC's infamous musical satire, SATURDAY'S VOYEUR and this past year marked her third as Director. She's choreographed many SLAC productions; her favorites include THE PERSIAN QUARTER, GO, DOG. GO!, BAT BOY THE MUSICAL, and WATER LILIES from CABBIES, COWBOYS, AND THE TREE OF THE WEEPING VIRGIN. Cynthia has been in the world of dance and theatre professionally for 35 years, during which time she performed in the Broadway, National, and International companies of A CHORUS LINE. Cynthia is proud to serve the Salt Lake Acting Company and its mission to develop and produce vital new work.
National New Play Network (NNPN) is the country's alliance of non-profit professional theatres that champions the development, production, and continued life of new plays. Since it's founding in 1998, NNPN has commissioned almost two dozen playwrights, provided nineteen MFA graduates with paid residencies, and supported more than 100 productions nationwide through its innovative Continued Life of New Plays Fund, which creates "rolling world premieres" or new plays. Hundreds of artists have gained employment through these efforts in the dozens of regions of the country where NNPN member theatres are located. NNPN receives substantial support from the Andrew W. Mellon Foundation, the Harold and Mimi Steinberg Charitable Trust, the Shubert Foundation, and the National Endowment for the Arts.
Actor's Equity Association (AEA), founded in 1913, represents more than 45,000 actors and stage managers in the United States. Equity seeks to advance, promote and foster the art of live theatre as an essential component of our society. Equity negotiates wages and working conditions, providing a wide range of benefits, including health and pension plans. AEA is a member of the AFL-CIO, and is affiliated with FIA, an international organization of performing arts unions. The Equity emblem is our mark of excellence. www.actorsequity.org
*Member of Actor's Equity Association, the Union of Professional Actors and Stage Managers in the United States
Press & Reviews
Photos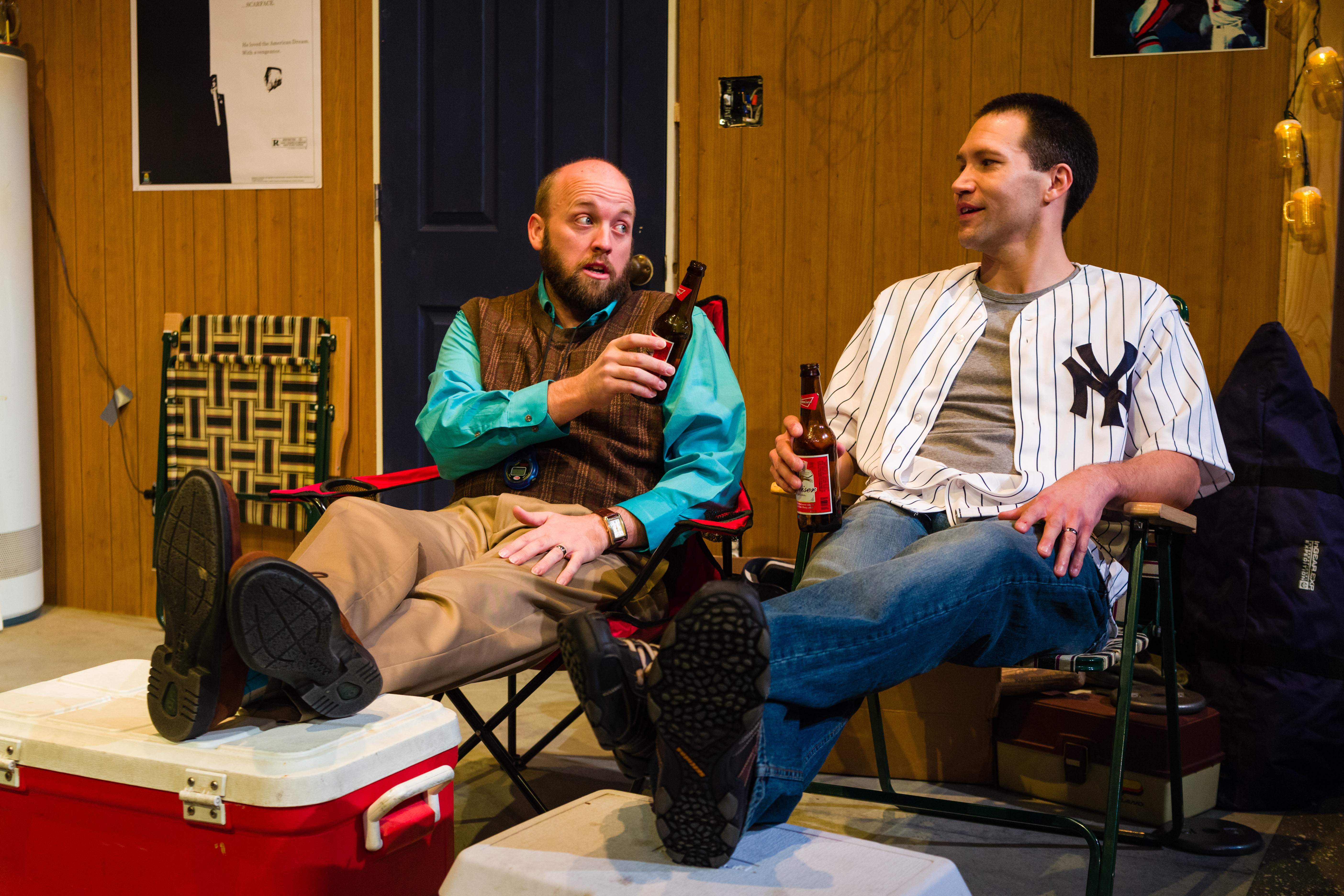 Photos by Dav.D Photography
Actors: Jesse Perry & Lanny Langston