Description
When the animals on Farmer Brown's farm are denied warm blankets for their drafty barn, they stage a peaceful uprising to improve working conditions.
Cast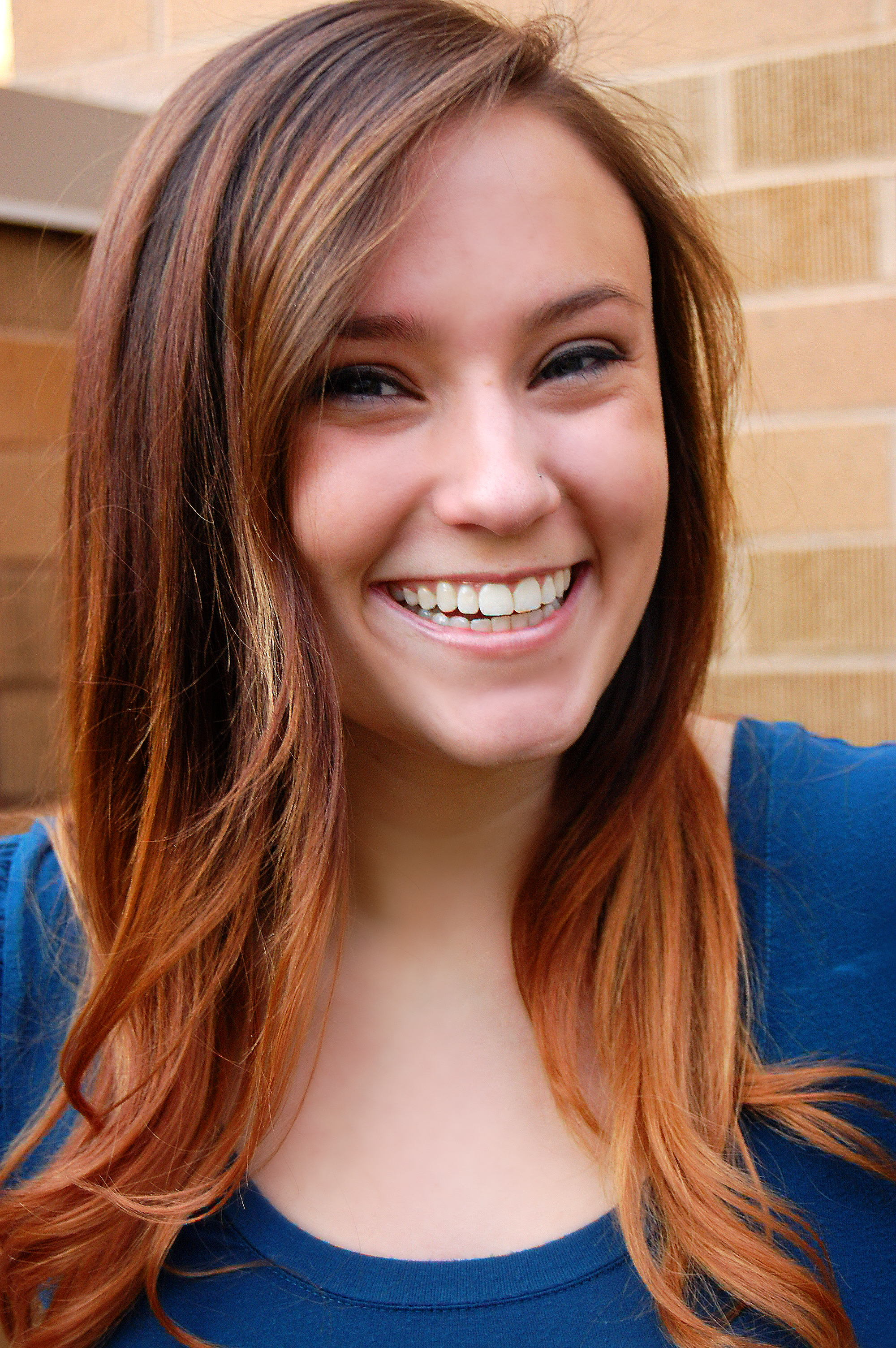 SHELBY ANDERSEN (Cow) is overjoyed to be playing on the farm this winter! She first fell in love with theatre when she was eight years old playing Miss Hannigan in ANNIE. She continued her theatre training at Youth Theatre at the U and went on to be a musical theatre major at Weber State University where she is planning to graduate in the spring! Shelby has previously appeared on the SLAC stage in the reading of LOVE LOSS AND WHAT I WORE and as Lauren in CIRCLE MIRROR TRANSFORMATION and is thrilled to be back! This performance is dedicated to her sweet Rylan who is a constant ray of light in her life. Thank you to my family who never stop supporting my love for theatre and to the crew at SLAC for this wonderful experience! Moooooo!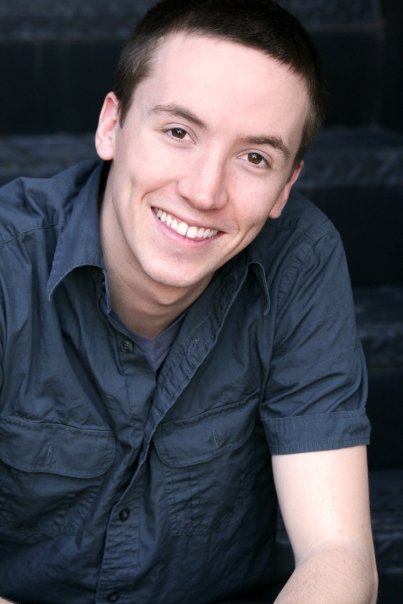 AUSTIN ARCHER (Duck) started performing on stage when he was just 4 years old, and he never grew out of it! He attended Weber State University where he studied musical theatre. His past roles here at the Salt Lake Acting Company include, James Monroe in BLOODY BLOODY ANDREW JACKSON, Nephi Jensen in SATURDAY'S VOYEUR '12, Patty Henry in SATURDAY'S VOYEUR '11, Sharktooth in HOW I BECAME A PIRATE, and Haemon in TOO MUCH MEMORY. He loves his job because he loves telling stories. He would like to thank all of the wonderful people in his life that support him and his continuing pursuit of his childhood dreams! QUACK!!! (Translation: enjoy the show!)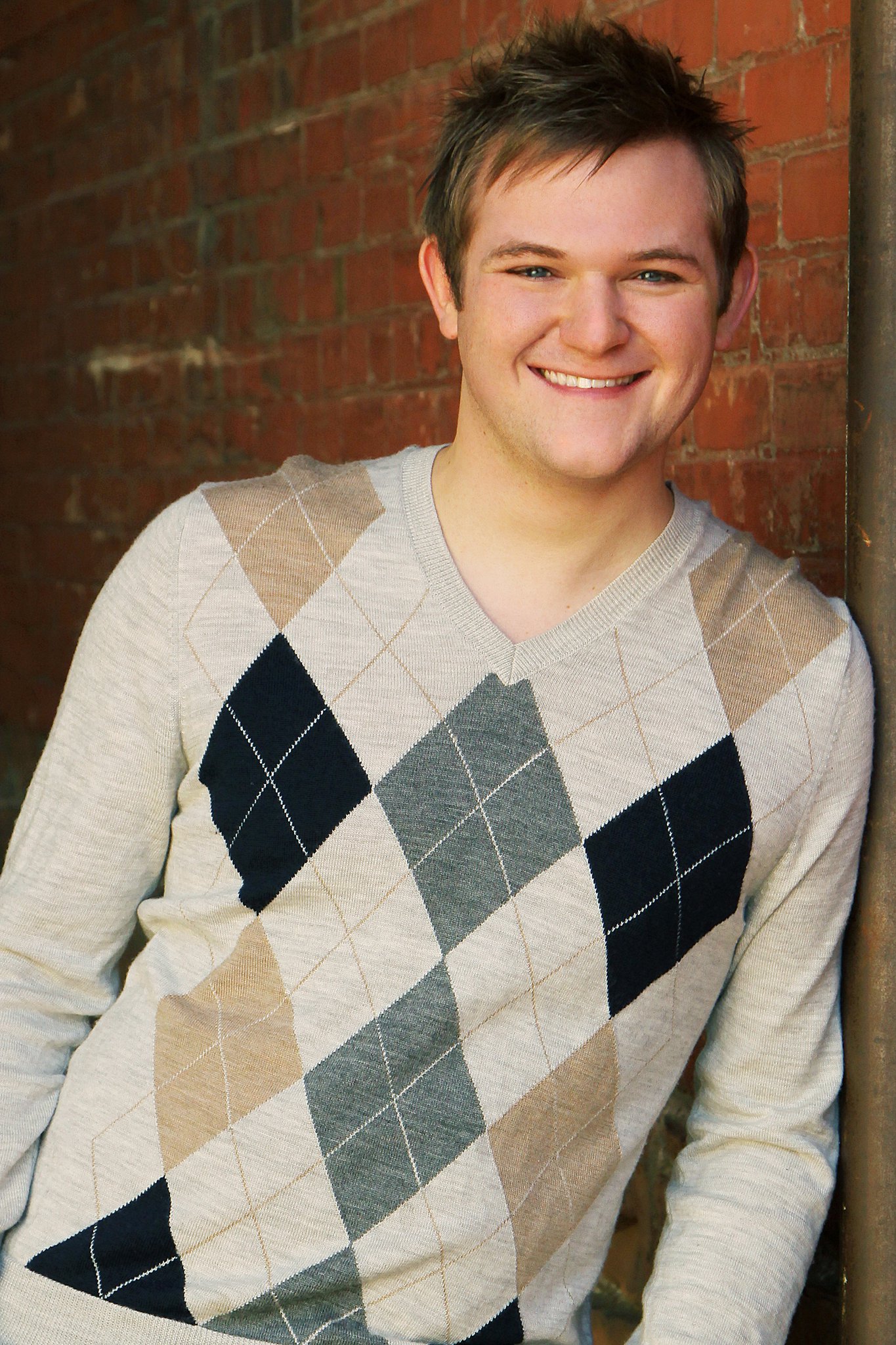 RANDALL EAMES (Farmer Brown) started playing the piano when he was 10 years old. He was in his first play, THE BEST CHRISTMAS PAGEANT EVER, when he was twelve. His singing career started when he was in ninth grade when he sang with his school group, the Syracuse Singers. He performed all through high school and then went on to study theatre in college. He graduated Magna Cum Laude from Weber State University with a degree in Theatre Arts. He is happy to be returning to SLAC's stage after appearing in Saturday's Voyeur 2011 and last year's children's show HOW I BECAME A PIRATE. Some of his favorite roles include: one of the guys in THE COMPLETE WORKS OF WILLIAM SHAKESPEARE ABRIDGED, Flute in A MIDSUMMER NIGHT'S DREAM, Roy Johnson in THE LIGHT IN THE PIAZZA, part of the company of UNDER CONSTRUCTION and Willard in FOOTLOOSE. He would like to thank all of those involved in this process and his friends, family, co-workers and educators for their endless support.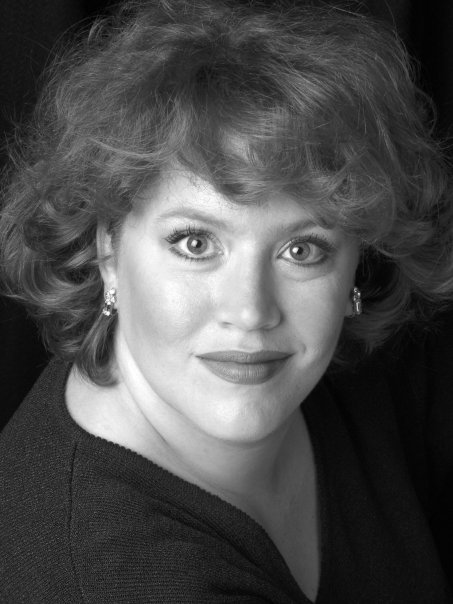 CAMILLE VAN WAGONER (Cow) is excited to be on the SLAC stage again! Her last production here was as Harmony Christensen in SATURDAY'S VOYEUR. Camille has worked for many local theater companies, including: The Grand Theatre, The Egyptian Theatre Company, Hale Centre Theatre, Salt Lake Shakespeare and Pioneer Theatre Company. Some of her favorite roles have been: Mrs. Lovitt in SWEENEY TODD, Miss Hannigan in ANNIE, Melpomene in XANADU, Dolly in HELLO, DOLLY!, Carmen Bernstein in CURTAINS, Penelope Pennywise in URINETOWN and Louise in ALWAYS, PATSY CLINE. She would like to thank the production staff for giving her the opportunity to get back on the SLAC horse. Yeehaw!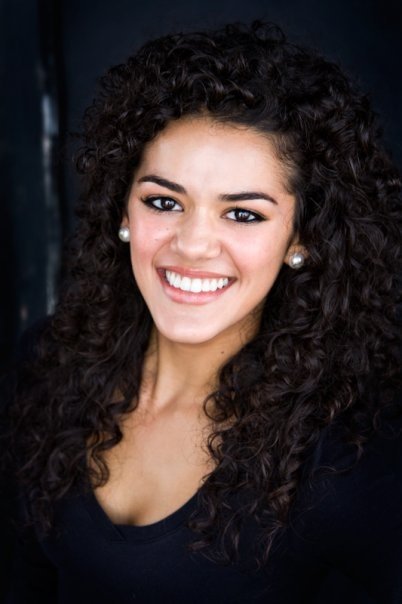 KALYN WEST (Hen) has been dancing before she should walk and singing before she could talk. Starting off as a dancer, she discovered a love of singing and acting in junior high. The deal was sealed in 9th grade when she was cast in her first leading role as Rosie Alvarez in BYE BYE BIRDIE. Some of her favorite past roles are Juliet in ROMEO AND JULIET (Weber State University), Sally Hemings in THE THIRD CROSSING (Plan B Theater Company), Reno Sweeny in ANYTHING GOES (Weber State University) and Anna Barker/Sparkler in CHARM (Weber State University). She recently appeared in another favorite role on the SLAC stage as MoHanna Lingo in SATURDAY'S VOYEUR '12 and is delighted to be back, sharing CLICK CLACK MOO with you! She would like to thank her family and friends for all their love, support and belief. You keep me sane, you keep me strong.
PENELOPE CAYWOOD (Director/Choreographer) (Penny to her friends) starting acting at the age of 5. Her first role was the "shy princess" in THE KING AND I and she still has the costume to prove it. Her career started early but her talents were not limited to the stage. She also travelled across the country in a youth singing group - The LaMarca American Variety Singers, sang on children's records, went to Japanese math school, she took jazz and tap lessons, occasionally got a job in the pit as a flautist, and participated in (and won) several speech contests - her favorite being for her 6th grade victory for "What life will be like in the year 2000." When she was 19, Penny was involved in the creation of a youth theatre company in Palos Verdes called Curtains Up! with two other young and crazy theatre friends. Penny is probably best known in town for her work with University of Utah's Youth Theatre program where she has been the director for the past 6 years. She has directed a U of U Youth Theatre production every year and is also responsible for the educational and outreach programming which includes an association with the Kennedy Center Partners in Education program (along with Kingsbury Hall and the Salt Lake City School District). Locally, Penny has choreographed for The Grand Theatre, Utah Opera, Rogers Memorial Theatre, Weber State University; musically directed for Plan-B; and directed at Rogers Memorial Theatre. Penny loves working and playing at SLAC and hopes you won't sit back and relax -- but instead lean forward, engage, and enjoy the show.
DARRIN DOMAN (Musical Director) is delighted to be directing the music for another show at Salt Lake Acting Company. Last year, Darrin directed the music for HOW I BECAME A PIRATE. However, the days of "heave-ho" and buried treasure have set sail. This show is all about electric blankets and barnyard animals. Darrin is always very nice to cows and chickens because he likes milk and eggs...mostly to make French Toast. Darrin recently discovered EGGNOG French toast. Mm-mm good! Darrin started playing the piano when he was 8 years old. Less than one year later he composed a song that won first place in a school contest. The song was called "Gazing Out My Window". Darrin enjoys performing wherever and whenever possible. He has performed on many stages in Utah and in places as far away as Russia, Spain and Finland. Sometimes Darrin gets to sing. Other times he gets to act. If he's really lucky, he gets to do both. One time Darrin got to sing, act AND play the piano all in the same show (SOUVENIR, Utah Contemporary Theater). Talk about a good time. Darrin also likes to teach singing lessons. Teaching cows to sing can be difficult, though. They only like to sing in one key. Yep, you guessed it, Beef-Flat! Darrin works full-time at the University of Utah Hospital and is on a quest to see the 7 Wonders of the Modern World—6 down, 1 to go. Thanks for coming to the show. ENJOY!
K.L. ALBERTS (Costume Design) designed costumes for his first play while he was still in High School. Back then he didn't know that being a costume designer was even a job, but over 30 years and many, many plays later it seems that it is! Kevin worked at many theatres across the country before settling in Salt Lake City where he works with the Salt Lake Acting Company, Pioneer Theatre Company and the Utah Shakespeare Festival.
JOSH MARTIN (Sound Design) is excited to be part of the fourth children show at Salt Lake Acting Company. It's always fun doing shows geared toward younger crowds. I wish I had the chance to see theatre when I was younger. I began working and attending performing arts when I was about 15, have not turned back since. I would not trade this lifestyle for anything. Some of my recent work includes SATURDAY'S VOYEUR 2011,SATURDAY'S VOYEUR 2012, GOD OF CARNAGE, (A MAN ENTERS), BLOODY BLOODY ANDREW JACKSON, and MANNING UP.
JESSE PORTILLO (Lighting Design) is always happy to work with SLAC, where previous credits include RED, HOW I BECAME A PIRATE, IF YOU GIVE A MOUSE A COOKIE, GO DOG GO, THE PERSIAN QUARTER and TOO MUCH MEMORY. Locally Jesse has also designed for Pioneer Theater Company, Plan-B Theater, The Grand Theater, Pygmalion Theater and the Egyptian Theatre in Park City. Other credits include Mobile Opera, LOOK Musical Theater, Millikin University and Baylor University. Jesse is a faculty member at the University of Utah Department of Theatre where he teaches courses in Lighting Design.
KEVEN MYHRE (Set Design, Executive Producer) was chosen to receive the Mayor's Artist Award in the Performing Arts for 2009. Keven was awarded the 2008 City Weekly Award for directing THE CLEAN HOUSE and MOONLIGHT AND MAGNOLIAS at Salt Lake Acting Company. His other directing credits at SLAC are RED, ANGELS IN AMERICA: PARTS 1 & 2, THE OVERWHELMING, RABBIT HOLE, I AM MY OWN WIFE, BAD DATES, KIMERBLY AKIMBO, GOING TO ST. IVES, WATER LILIES, THE MEMORY OF WATER, TWO-HEADED, THE BEAUTY QUEEN OF LEENANE, GROSS INDECENCY: THE THREE TRIALS OF OSCAR WILDE, C'EST MOI in MERE MORTALS, and THREE DAYS OF RAIN. Keven has designed all of SLAC's sets and many of the costumes for the last seventeen years. He also designed sixteen sets for The Grand Theatre, including ALWAYS...PATSY CLINE, JOHNNY GUITAR, MY FAIR LADY, SONG OF SINGAPORE, MORNING'S AT SEVEN, and GODSPELL. ACCORDING TO COYOTE, WEST SIDE STORY, CROW AND WEASEL, and SOUTH PACIFIC were designed for Sundance Theatre. His designs have also been seen at Pioneer Memorial Theatre, Utah Musical Theatre, Egyptian Theatre, Kingsbury Hall and the Babcock Theatre. His work for the Utah Arts Festival includes site design for the 20th Anniversary. He received a BFA from the University of Utah and a MFA in Theatre from the University of Michigan.
CYNTHIA FLEMING (Executive Producer) was first seen at Salt Lake Acting Company in its 1978 production of PIPPIN. Since then she has worn many hats at SLAC – Choreographer, Box Office Manager, Director of Audience Services. She was Creative Director of Communications and Audience Development, leading the Communications Team and overseeing the Box Office and House Management, before taking on her current title of Executive Producer. For 15 years Cynthia has choreographed SLAC's infamous musical satire, SATURDAY'S VOYEUR and this past year marked her third as Director. She's choreographed many SLAC productions; her favorites include THE PERSIAN QUARTER, GO, DOG. GO!, BAT BOY THE MUSICAL, and WATER LILIES from CABBIES, COWBOYS, AND THE TREE OF THE WEEPING VIRGIN. Cynthia has been in the world of dance and theatre professionally for 35 years, during which time she performed in the Broadway, National, and International companies of A CHORUS LINE. Cynthia is proud to serve the Salt Lake Acting Company and its mission to develop and produce vital new work.
SALT LAKE ACTING COMPANY Celebrating its 42nd season of innovative and thought-provoking plays, Salt Lake Acting Company has produced an expansive body of work in the longstanding support of its most open and adventurous audience. SLAC is one of the chief performing arts organizations in Utah, and reaches an audience of over 34,000 people annually, including our subscriber base. Salt Lake Acting Company provides an artistic home for Utah's finest actors, playwrights, directors, and designers and will continue to make a significant contribution to our community and to the American theatre field by commissioning, developing and producing new plays. Salt Lake Acting Company is a 501(c)3 non-profit professional theatre.
Press & Reviews
In the Room
The musical score to CLICK, CLACK, MOO: COWS THAT TYPE has something for everyone. I was hooked from the very beginning when a cow starts her day singing like I imagine cows might sing, "Moo, moo-moo-moo Moo..." A duck and hen join the fun with their musical "clucks" and "bawks". Then Farmer Brown adds his voice to the barnyard symphony to sing about how all this is music to his ears. I appreciate the lesson Farmer Brown teaches us in this opening number....
"Music is all around us. We just have open our ears and listen."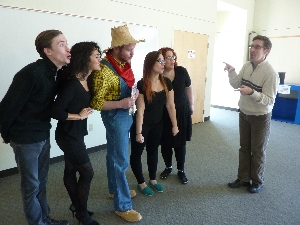 Duck gets a moment in the spotlight as he sings about wanting more than life on the far. His big solo number, Oceans, Rivers and Waterfalls, comes complete with a "dream ballet" dance sequence. Not something you see everyday and sure to be memorable. I think the title song, Click, Clack, Moo may present the biggest challenge to me as musical director. The animals don't so much sing this song as they dance it. Their steps are punctuated by little rhythmic vocal chants in time with a type writer. For sure, it's not something you see everyday. Cows that dance and sing? It's just a recipe for a "hit show" if you ask me. But wait, there's more. The cows and chickens go on strike, angry about the hard work of producing milk and eggs for the farmer while shivering in their drafty old barn. This leads to a lively musical march a la Les Miserables. A brief minuet sections keeps the plot from getting too heavy. My favorite song of this show is An Electric Blanket Feels Like Home. It's a darling balland with a very hummable tune. What's more, I can't think of anything more satisfying than being all snugged-up, safe and warm. I'm amazed at the strong emotions and childhood memory that this song evokes in me. I think kids and adults will identify with and enjoy this show.
SLAC: You grew up in rural Idaho, do you have any childhood memories that inspired you as Musical Director for Click, Clack, Moo?
Darrin: Yes, actually, I do. I had a great childhood. My family lived in the "city", small as it was, and my grandfather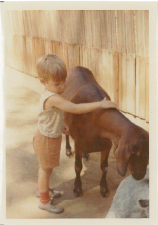 owned a cattle ranch. I had the best of both worlds growing up. Every kid should be so lucky. I remember riding horses, chasing ground hogs, caring for sheep, peeking down rabbit holes to find someone at home, catching tadpoles and keeping them in a fish bowl as they matured into little frogs AND feeding the cows. There are plenty of adventures to be had in the great outdoors. No one is going to believe this, but I promise it's true—Scout's Honor! One day, on the ranch, I was headed to the basement of my grandparent's house. My grandmother stopped me. When I asked why I wasn't allowed downstairs, she told me that grandpa had a sick cow in the basement. Well, that only made me want to go downstairs all the more. Grandma agreed to accompany down the stairs, part way, for a quick peek. She didn't want me to catch whatever the poor little calf had. Imagine my surprise to see the calf sleeping soundly, warm and snug on an electric blanket. The story line of Click, Clack, Moo makes perfect sense to me. Cows and electric blankets just go together. I learned that as a kid. I'd like to think that baby cow really appreciated his electric blanket. You'll be relieved to know that calf got better and led a happy cow life as far as I know.
SLAC: Do you have a favorite animal?
Darrin: I can't say it's my very most favorite animal, but I will always remember the peacocks that lived at my great grandmother's house. She never told me where she got them, but they got along with the chickens and just hung out around the coop. When my great grandmother would feed the chickens, the peacocks would come around and spread their tail feathers. On occasion, they would fly across town to the little local market. The storeowners would call my great grandmother to come and get them and she'd drive them home in the back of a truck. Whenever a peacock lost a tail feather, my great grandmother would give them to us kids to keep. There were always peacock feathers in the house where I grew up. I think peacocks enjoy music. I remember a time I was doing an outdoor concert in Spain. There was an aviary nearby and the peacock sang along with me and the choir all night long...Peacocks are loud!
In the Room 2|icon
Penny: If you could choose to be any farm animal in this story, which one would you be?
Presley: A cow because the cows get to play on the typewriter that goes Click, Clack, Clickety, Clack, Click, Clack, Moo!
Penny: What's your favorite part of the story?
Presley: My favorite part is when all the cows shout , "No Milk Today – Today or Ever Tomorrow!" That part happens when the cows get angry because Farmer Brown won't give them electric blankets.
Penny: Why should kids come see this play?
Presley: Other kids might think it's funny or find it interesting. And it just might be good for their education.
Penny: Do you think this play funny?
Presley: Yes! The funniest part is when the cows say "Moo" when they are surprised by the typewriter.
Penny: What is the lesson of this story?
Presley: The lesson is - Don't fight. Another lesson is - Be kind. And when you ask for something it's okay and if the other person doesn't agree. Always ask nicely. If they say no, you might have to live with it. It's better than fighting. That's my Presley Theory.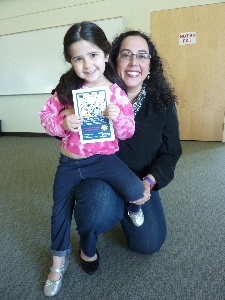 Study Guide
Photos
Photos by Dav.d photography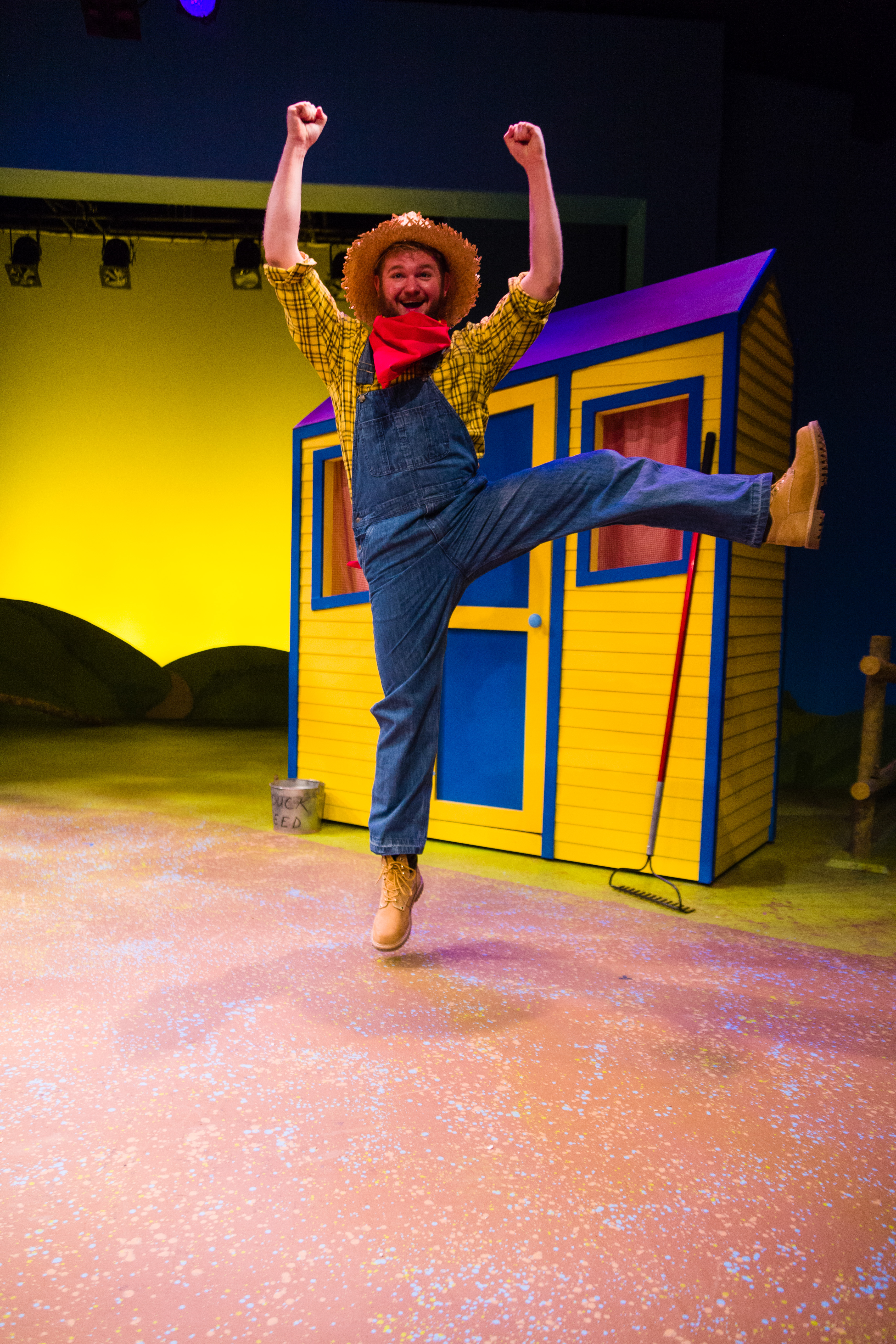 Randall Eames as Farmer Brown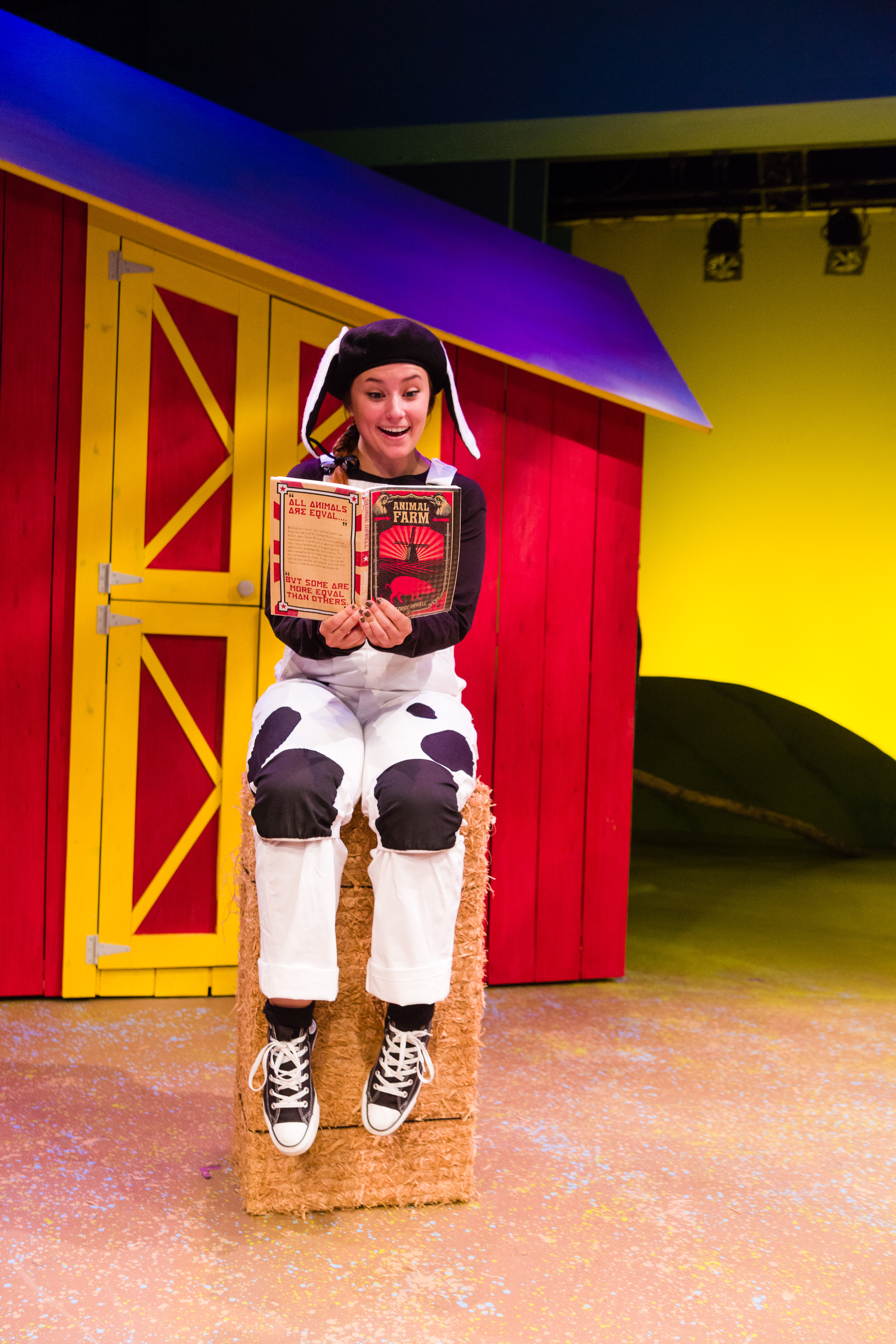 Shelby Andersen as Cow #2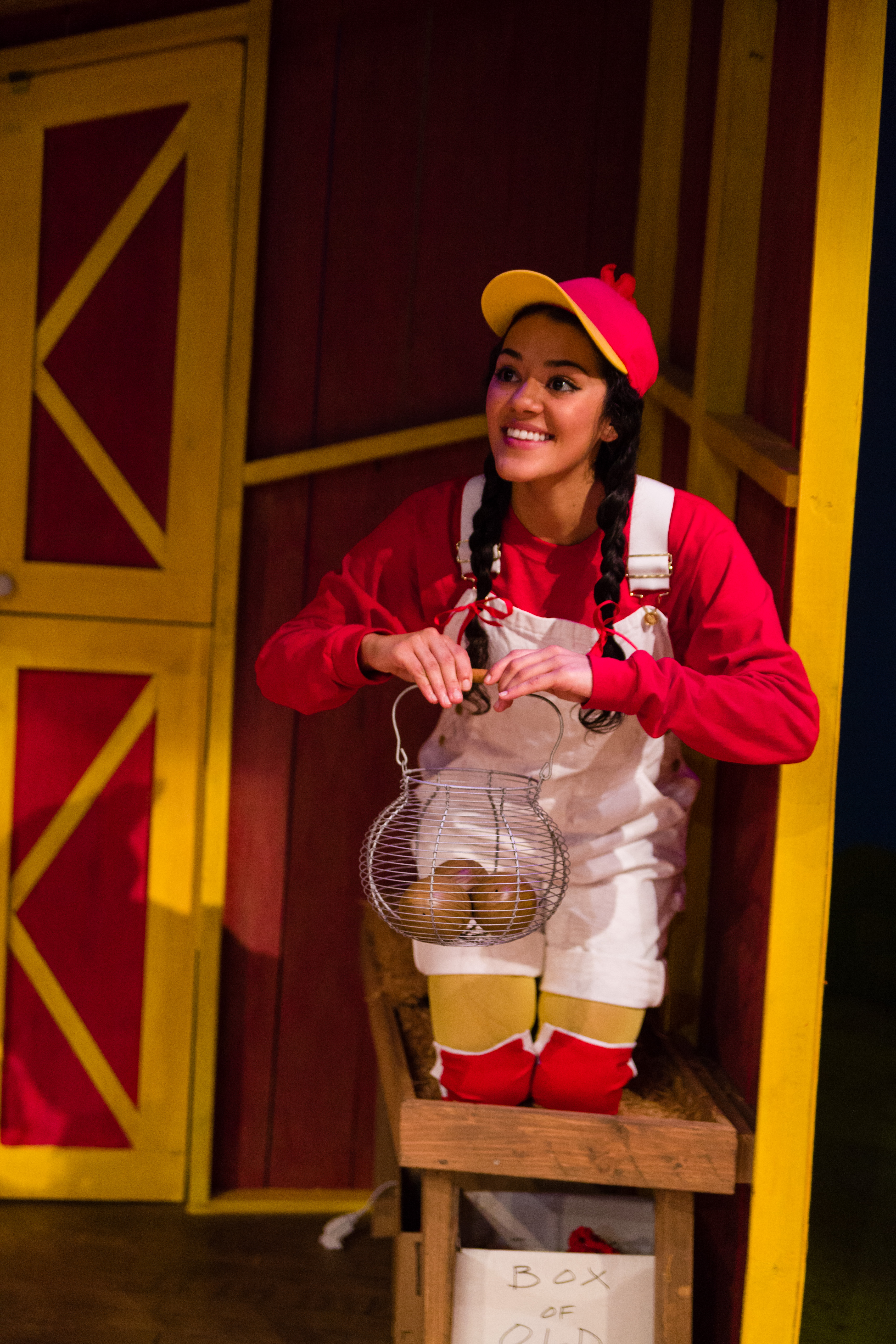 Kalyn West as Hen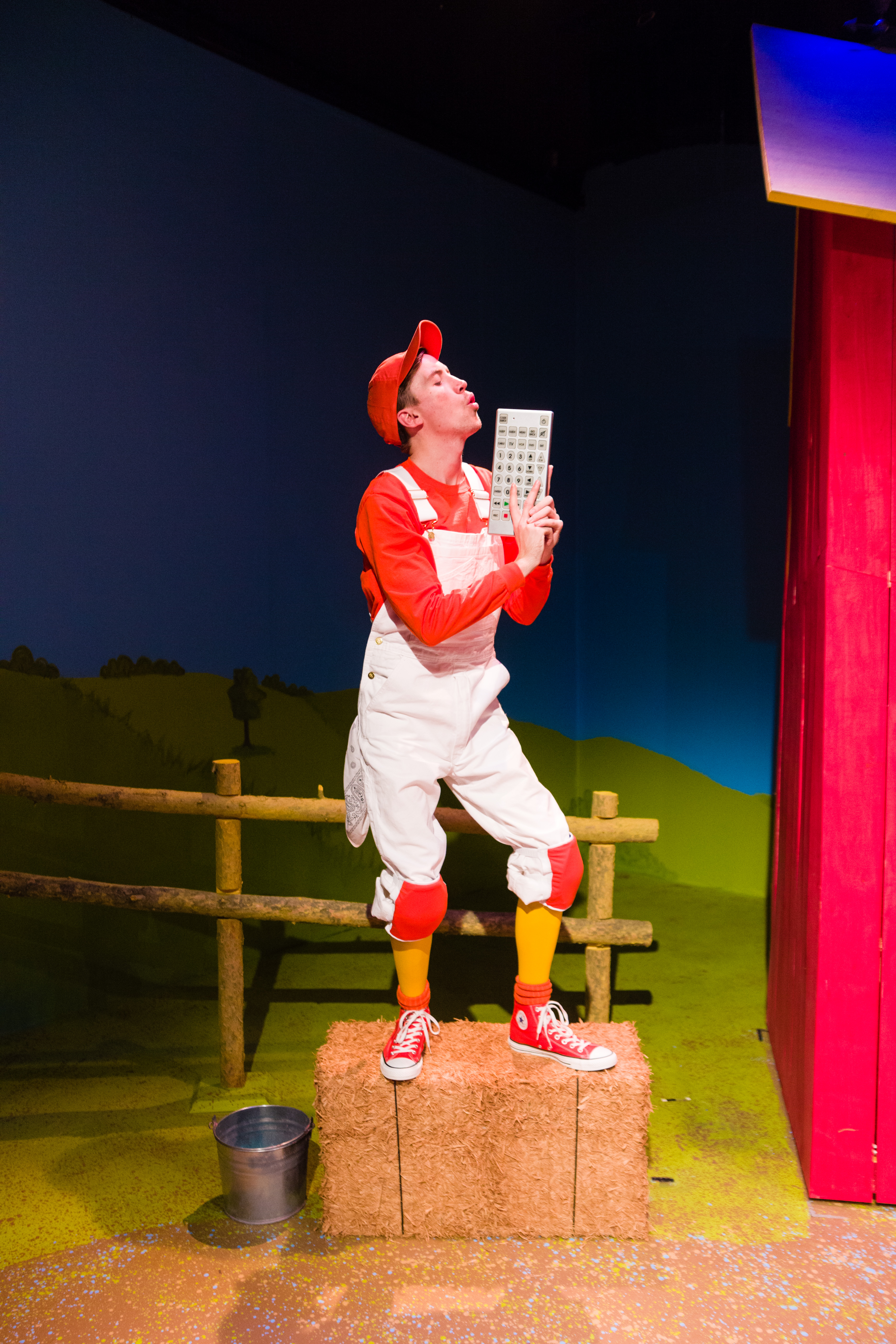 Austin Archer as Duck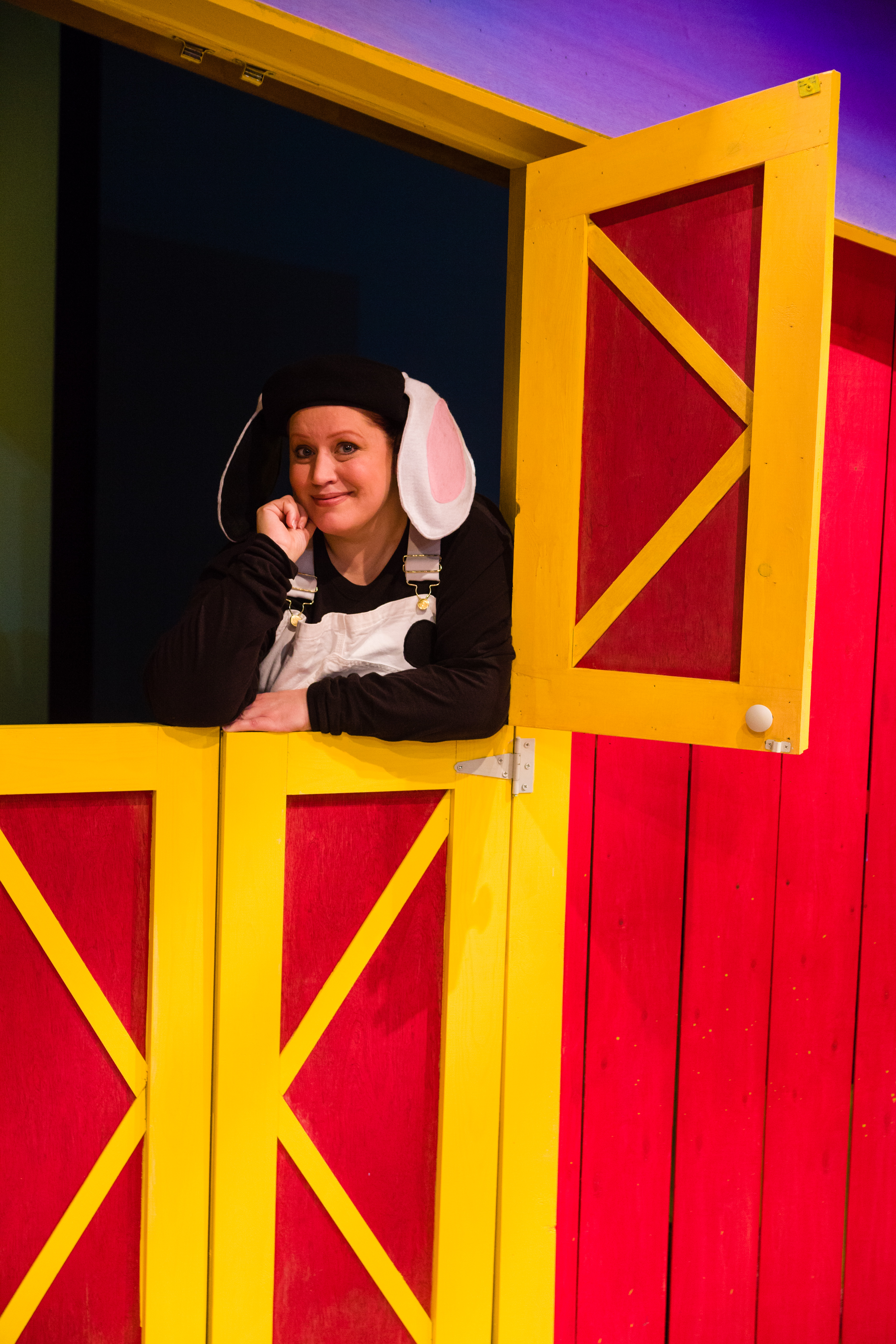 Camille Van Wagoner as Cow #1