Announcing Auditions for PINKALICIOUS THE MUSICAL
Book by ELIZABETH KANN & VICTORIA KANN
Music by JOHN GREGOR
Lyrics by JOHN GREGOR, ELIZABETH KANN & VICTORIA KANN
DIRECTOR:
Penelope Caywood
WHEN:
Saturday, August 25 - 10am - 2pm
WHAT:
32 bars of an upbeat musical theatre song
Prepared sides.
Ten-minute slots.
WHERE:
Salt Lake Acting Company
168 W 500 N
Salt Lake City, UT 84103
801.363.7522
AUDITION:
Must have an appointment and headshot and resume.
Call 801.363.7522 for an audition time and sides.
Accompanist will be provided
Scripts are available to read at Salt Lake Acting Company and we encourage you to read the script before auditioning.
Non-Equity production.
SLAC is an equal opportunity employer.
SCHEDULE:
Rehearsals begin November 5, 2018.
Runs November 30 – December 30, 2018. See performance calendar below.
*Additional performances may be added the week of Dec. 3 and Dec. 10.*
ROLES:
3 F, 2 M: Actor/Singer/Dancers 18 and older. Character breakdowns below.
PINKALICIOUS: learns that more is not always better, learns self-control, and learns the power of pink.
PETER (her brother, doubles as BIRD): secretly desires to enjoy pink like his sister and to express himself creatively; earns the right to play with pink toys and to enjoy life's silver lining by expressing himself freely.
ALISON (her friend, doubles as DR. WINK and BUTTERFLY): learns not to be jealous, that the grass is not always greener on the other side.
MRS. PINKERTON (her mother, doubles as BUTTERFLY): learns to be less rigid and less busy; finds her inner girl; learns to enjoy sweets and eats buttercream frosting in the finale and wears a pink dress.
MR. PINKERTON (her father, doubles as BEE): learns to be less close-minded and strict; forbids Peter to play with pink toys; later permits Peter to express himself even if it involves pink, admires Pinkalicious for her love of pink, and even wears pink clothes himself.
DR. WINK (her pediatrician – played by actor who plays ALISON)
BIRD, BEE, BUTTERFLY 1, BUTTERFLY 2 (doubled with other roles)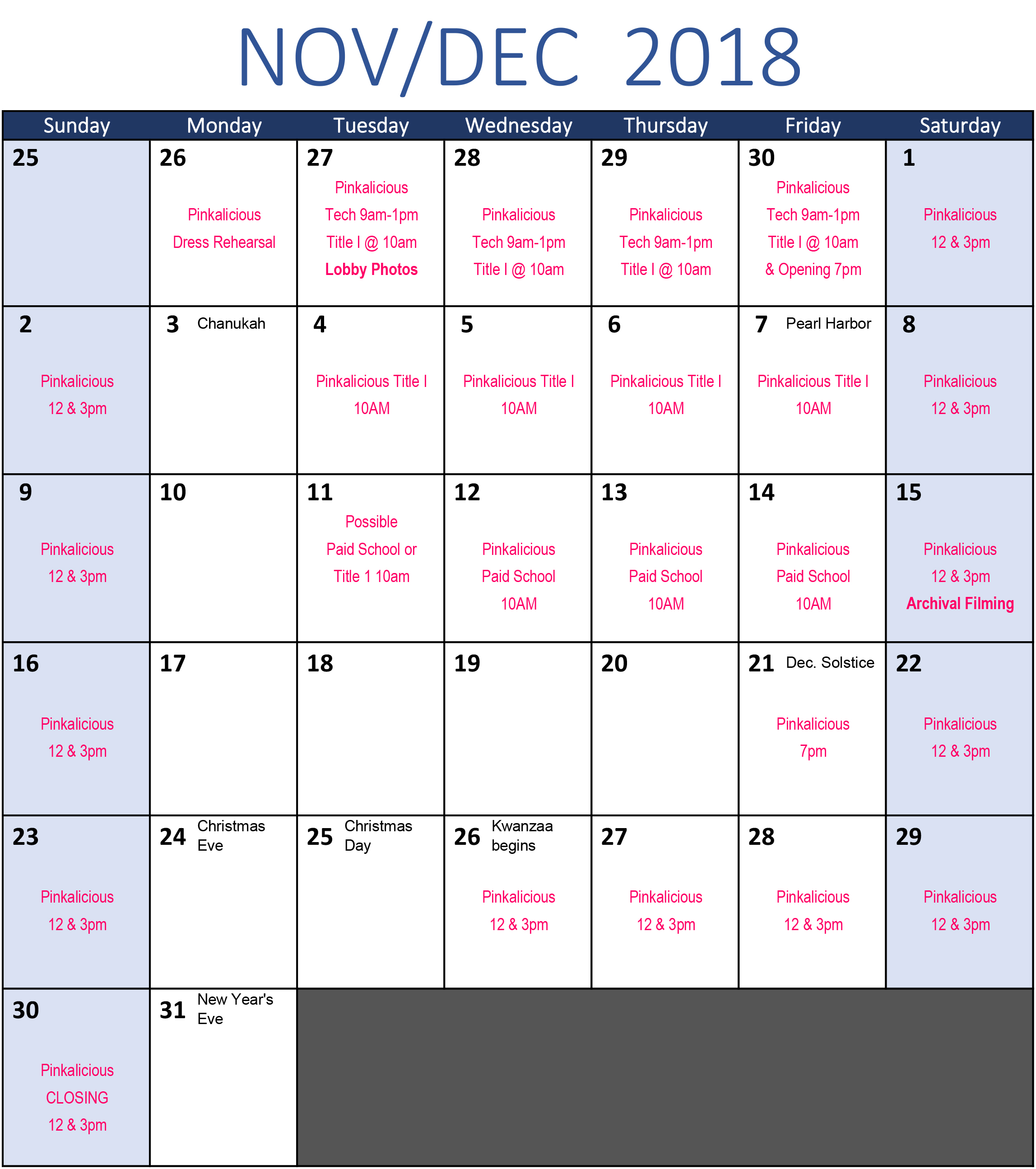 Join our actor's mailing list to stay up to date with all audition opportunities!