Description
A quirky, sci-fi, not-so-romantic comedy, boom follows Jo, a female journalism student, and Jules, a male marine biologist, on what appears to be an erotic "casual encounter." But there's nothing casual whatsoever about this particular evening. Will meaningless sex have meaning? What's going on in the fish tank? And who is that woman, Barbara, pulling levers in the corner? Something is about to explode.
Cast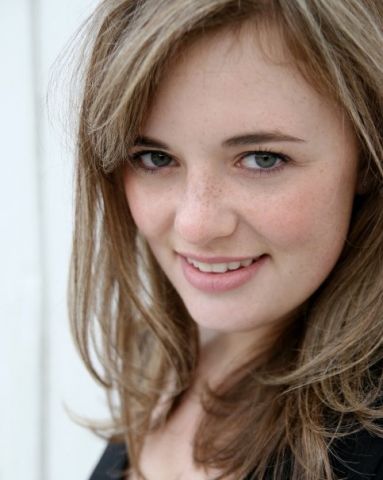 EMILY BURNWORTH (Jo) is grateful to be making her Salt Lake Acting Company debut in BOOM. Recent credits include Shelby in STEEL MAGNOLIAS (Pinnacle), Bitsy Mae Harling in SORDID LIVES (PYGmalion), Grace in DOGVILLE (Experimental Platform) and Sandy in GREASE! the musical (Jackson Hole Playhouse). She can also be seen in the upcoming film Unicorn City. Originally from central Pennsylvania she ventured out west for an Acting/Linguistics degree (BYU) and good powder days. In her spare time she is a dialect coach for both stage and screen. Recent coaching credits include the upcoming HCTO production of THE SCARLET PIMPERNELL and the role of Jean Baptiste in the film For Robbing the Dead.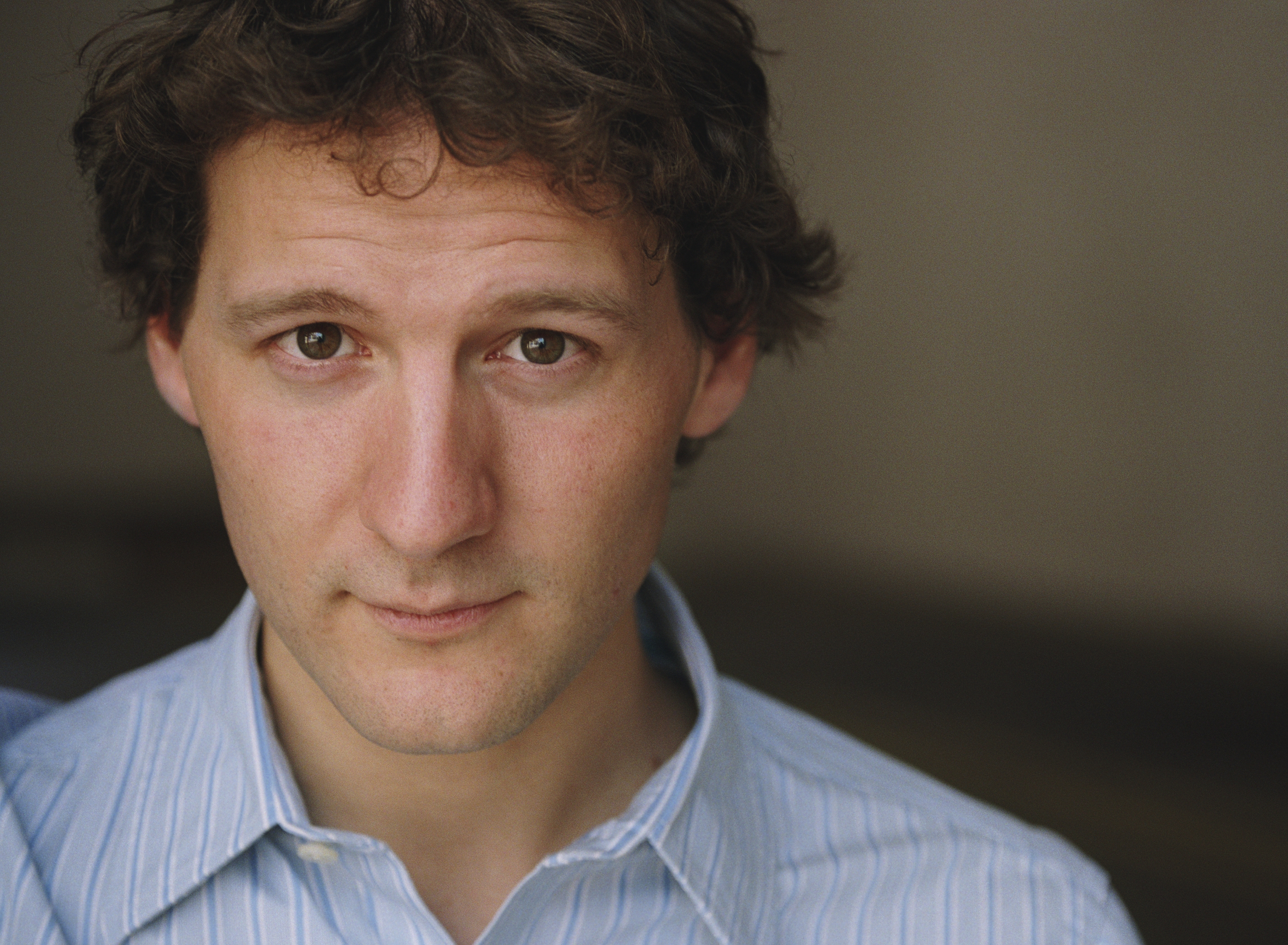 DAVID FETZER (Jules) After a four year gap, David is excited to be back on the SLAC stage. Other SLAC credits include KIMBERLY AKIMBO, THE GOAT, and BOY. David most recently appeared as Everett Ruess in Plan B's END OF THE HORIZON. This summer, David co-starred in the feature film Must Come Down which will enter the festival circuit this fall. David is the founder and producing director of the New Works Theatre Machine, SLC's only experimental theatre company. NWTM's inaugural show, GO TO HELL, opens this December at the Utah Pickle Factory. www.thenewworkstheatremachine.com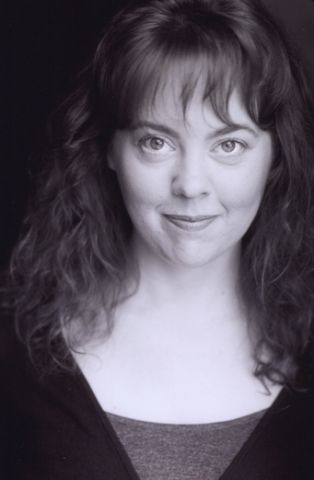 HOLLY FOWERS (Barbara) is thrilled to be making her debut at SLAC. Recent Salt Lake City credits include ELEEMOSYNARY and ROMEO AND JULIET with Pinnacle Acting Company, SEARCHING FOR DAVID'S HEART with Shalom Theatre, and readings of SUNLIGHT and PROPHETS OF NATURE at SLAC. Some of her favorite Seattle credits include Edward/Lin in CLOUD 9, Rita in EDUCATING RITA, Judith in SONG OF SONGS, Mistress Quickly in MERRY WIVES OF WINDSOR, and Romeo in SHAKESPEARE'S R & J.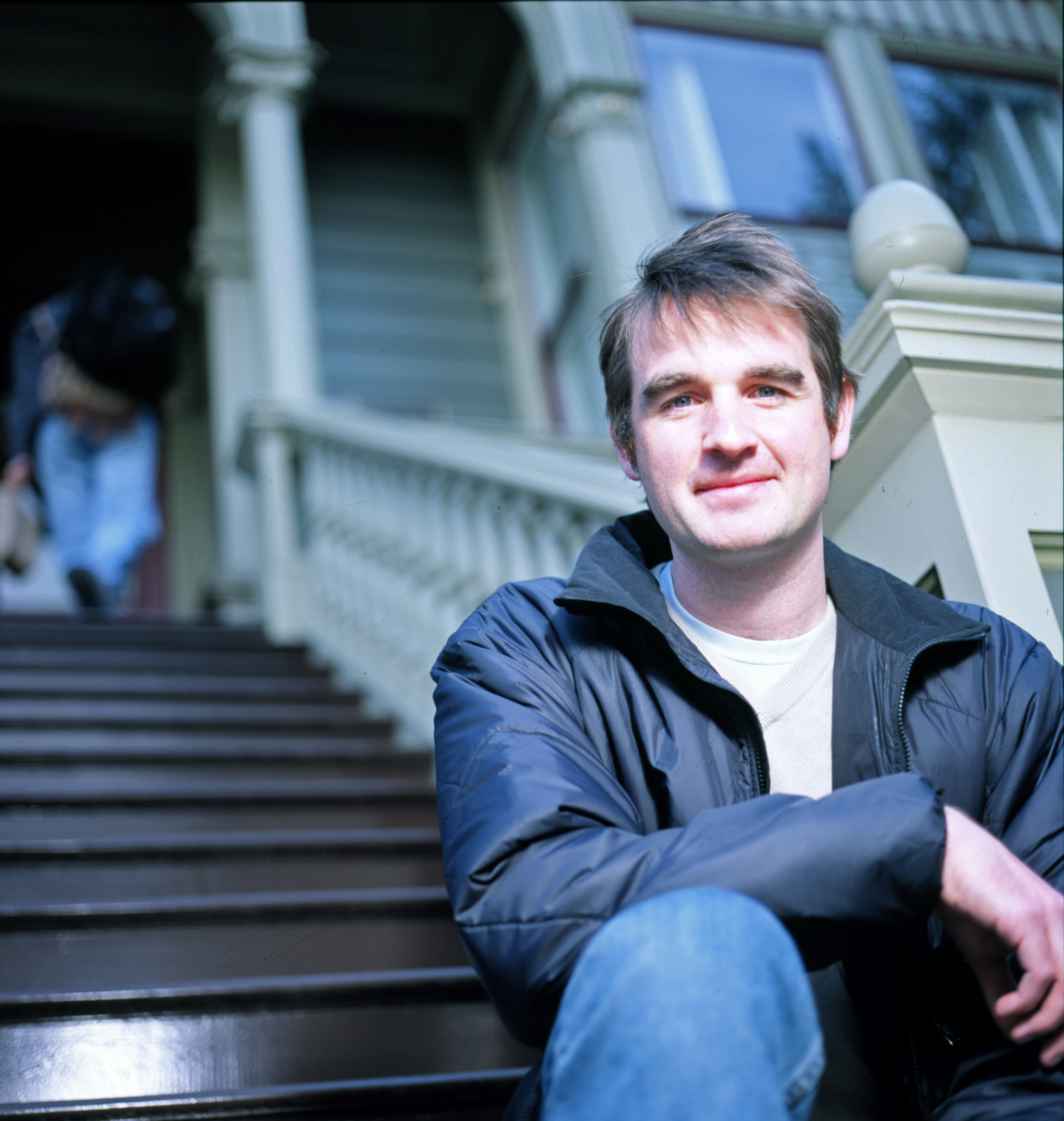 PETER SINN NACHTRIEB (Playwright) is a San Francisco-based playwright whose works include Boom (TCG's most produced play 2009-10), T.I.C. (TRENCHCOAT IN COMMON), HUNTER GATHERERS (2007 ATCA/Steinberg New Play Award, 2007 Will Glickman Prize), COLORADO, and MULTIPLEX. His work has been seen off-Broadway and across the country including at Ars Nova, SPF, Woolly Mammoth Theatre, Seattle Repertory, Actors Theatre of Louisville, Cleveland Public Theatre, Brown/Trinity Playwrights Rep, Wellfleet Harbor Actors Theatre, Dads Garage, and in the Bay Area at Encore Theatre, Killing My Lobster, Marin Theatre Company, Impact Theatre, and The Bay Area Playwrights Festival. His newest plays are BOB, a South Coast Rep commission (and set to premiere at the 2011 Humana Festival for New American Plays at Actors Theatre of Louisville) and LITTER, a commission for A.C.T., Peter holds a degree in Theater and Biology from Brown and an MFA in Creative Writing from San Francisco State University. Peter is a member of New Dramatists, a resident playwright at the Playwrights Foundation, San Francisco and often writes at Z Space Studio in San Francisco. He likes to promote himself online at www.peternachtrieb.com.
ROBIN WILKS-DUNN (Director) is thrilled to be part of SLAC's 40th celebration and many of her favorite theatre moments since moving to Salt Lake in 1988 have been at SLAC. Her previous SLAC credits include premieres of PEARL as part of THE WATER PROJECT, ONE LAST DANCE and NAPOLEON'S CHINA and New Play Sounding Series readings of COURTING DISASTER and CHARM. Robin has directed around the Salt Lake Valley for over 20 years. Other favorite directing credits include SCHOOL HOUSE ROCK LIVE!, ALL MY SONS, MAN OF LA MANCHA, KASPAR and FOOL FOR LOVE. Robin is also a script reader for Sundance Theatre Labs and will be directing Eve Ensler's THE GOOD BODY for Pygmalion Theatre Company in Spring 2011. She has taught locally at University of Utah, Westminster College and Weber State University. She would like to thank her family, friends and colleagues for making her 30 years in theatre possible.
KEVEN MYHRE (Set Design/Executive Producer) was chosen to receive the Mayor's Artist Award in the Performing Arts for 2009. Keven was awarded the 2008 City Weekly Award for directing THE CLEAN HOUSE and MOONLIGHT AND MAGNOLIAS at Salt Lake Acting Company. His other directing credits at SLAC are ANGELS IN AMERICA: PARTS 1 & 2, THE OVERWHELMING, RABBIT HOLE, I AM MY OWN WIFE, BAD DATES, KIMERBLY AKIMBO, GOING TO ST. IVES, WATER LILIES, THE MEMORY OF WATER, TWO-HEADED, THE BEAUTY QUEEN OF LEENANE, GROSS INDECENCY: THE THREE TRIALS OF OSCAR WILDE, C'EST MOI in MERE MORTALS, and THREE DAYS OF RAIN. Keven has designed all of SLAC's sets and many of the costumes for the last sixteen years. He also designed sixteen sets for The Grand Theatre, including ALWAYS…PATSY CLINE, JOHNNY GUITAR, MY FAIR LADY, SONG OF SINGAPORE, MORNING'S AT SEVEN, and GODSPELL. ACCORDING TO COYOTE, WEST SIDE STORY, CROW AND WEASEL, and SOUTH PACIFIC were designed for Sundance Theatre. His designs have also been seen at Pioneer Memorial Theatre, Utah Musical Theatre, Egyptian Theatre, Kingsbury Hall and the Babcock Theatre. His work for the Utah Arts Festival includes site design for the 20th Anniversary. He received a BFA from the University of Utah and a MFA in Theatre from the University of Michigan.
JAMES M. CRAIG (Lighting Design) has designed the lighting for 35+ shows at SLAC since 1997, most recently for ANGELS IN AMERICA, SATURDAY'S VOYEUR 2010, CHARM, THE CARETAKER, MASTER CLASS, SATURDAY'S VOYEUR 2009, END DAYS, SIX YEARS, BILLION DOLLAR BABY, ICE GLEN, and THE WATER PROJECT. James has also designed lights for Plan-B Theatre, Utah Contemporary Theatre, Utah Musical Theatre, The Egyptian Theatre Company, Peery's Egyptian Theatre, Odyssey Dance Theatre, The Grand Theatre, Weber State University, The Emily Company, Georgia Shakespeare Festival, Virginia Stage Company, The Generic Theatre, Little Theatre of the Rockies, Lyric Opera Ensemble, Coachella Valley Theatre and Theatre Inc. Currently James is the Technical Director for the Park City Performing Arts Foundation. James holds a B.S. in Theatre from Weber State University, and is a member of United Scenic Artists Local 829.
K.L. ALBERTS (Costume Design) Previous designs at Salt Lake Acting Company include ANGLES IN AMERICA, PART 1: MILLENNIUM APPROACHES, TOO MUCH MEMORY, GO, DOG. GO!, THE OVERWHELMING, BILLION DOLLAR BABY, DARK PLAY, MOONLIGHT AND MAGNOLIAS, I AM MY OWN WIFE, SEXSTING, RABBIT HOLE, THE BEARD OF AVON and GROSS INDECENCY. For Pioneer Theatre Company, K.L.'s designs include 42ND STREET, MISS SAIGON, THE PRODUCERS, LES MISERABLES, METAMORPHOSES, RAGTIME and the world premieres of LAUGHING STOCK and DUMAS' CAMILLE. For Meat and Potato Theatre K.L. has designed INFANTRY MONOLOGUES and SHADOWS OF THE BAKEMONO and for the Utah Shakespearean Festival K.L. has designed GREAT EXPECTATIONS-THE MUSICAL, AH WILDERNESS!, HAY FEVER, THE MATCHMAKER and FIDDLER ON THE ROOF. Upcoming projects include CIRCLE MIRROR TRANSFORMATION for SLAC and WHITE CHRISTMAS for PTC.
CYNTHIA L. KEHR REES (Sound Design) is very excited to be designing BOOM. Cynthia has been a Sci-Fi fanatic since she first saw Captain Kirk seduce a green lady but until now she has never had the opportunity to work on a Sci-Fi production. Some of Cynthia's favorite designs for Salt Lake Acting Company include MADAGASCAR, DUST EATERS, SEEING THE ELEPHANT, the recent ANGELS IN AMERICA and POLISH JOKE. Other theatres where you may have heard her work include Arena Stage, The National Theatre in Washington D.C., Seaside Music Theatre, The Alabama Shakespeare Festival, Cincinnati Playhouse in the Park, The Grand Theatre, and Park City Egyptian Theatre Company. Cynthia received her MFA in Sound Design from the College-Conservatory of Music at the University of Cincinnati and is a member of United Scenic Artists Local 829, the national theatre designers union.
VICTORIA ELENA NONES (Production Stage Manager) will be graduating from the University of Utah in 2011 with a BFA in Stage Management and a minor in Gender Studies. She is an alumnus of Tuacahn High School for the Performing Arts and AMDA Los Angeles. She is a stage manager/actress who recently made her SLAC debut in SATURDAY'S VOYEUR 2010 as Sarah Palin. She is thrilled to have BOOM as her stage managing debut at SLAC. What a year! Thanks to Kev and Cyn! Stage management credits include: BLOOD WEDDING, TAKING STEPS, THE MERCY SEAT (University of Utah), THE LILY'S REVENGE (Sundance Theatre Institute), and TOUCH(ED) (Pioneer Theatre Company). Victoria is the Assistant Entertainment Director & Production Stage Manager for the Utah Pride Festival, and the Special Events Chair for the University of Utah ASUU. She directed THE VAGINA MONOLOGUES at the U of U in 2010, as well as directs/owns a local burlesque troupe in SLC (BackDoor Burlesque).
Press & Reviews
In the Room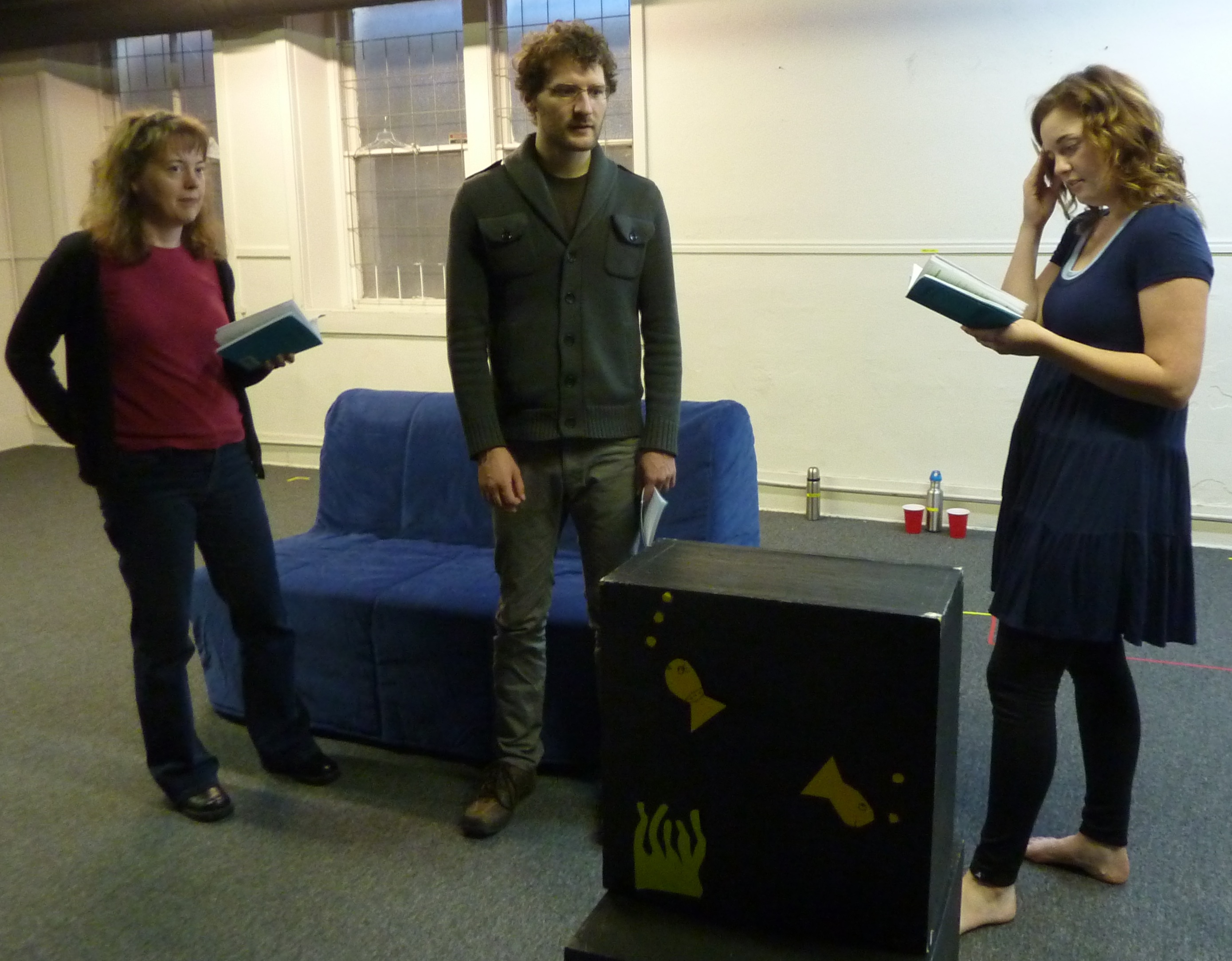 Playwright Peter Sinn Nachtrieb and Director Robin Wilks-Dunn
Robin Wilks-Dunn. We love this script; your voice is so unique and funny.
Peter Sinn Nachtrieb. I love writing comedy. I think everything I've written so far is generally funny – with ranging bits of darkness in it. I'm interested in that kind of way of getting people entertained and laughing, which allows you to be very visceral and intimate with an audience and approach deeper, more profound questions.
Robin. There are these key phrases that stand out to me as a director, and I direct toward those moments. One in particular in this script that jumps out at me and seems to have bigger meaning is, "Why am I here?" As a playwright do you build the rest of the script around these bigger questions?
Peter. The play is hopefully dealing with small personal changes, how people grow, and it's also about how a planet evolves. How huge events out of our control can change the course of our lives. I've always been interested in biology, about how the evolution of species in the world is not something that happened sort of gradually and at a steady rate, but that there are these moments in time where there are radical events that change things, often followed by a huge extinction or a rapid period of evolution – of things expanding and changing and becoming new things. There's something about that that resonates with me. On that evolutionary scale, that's really fascinating: a comet hits, and that's actually an opportunity. What's happening there with life over time is also something that I think is easily said about our personal lives – how can we be going on a trajectory in our day to day lives, and there are these events that turn everything on it's head or push us into a new direction, and we don't necessarily have a lot of control over? That's a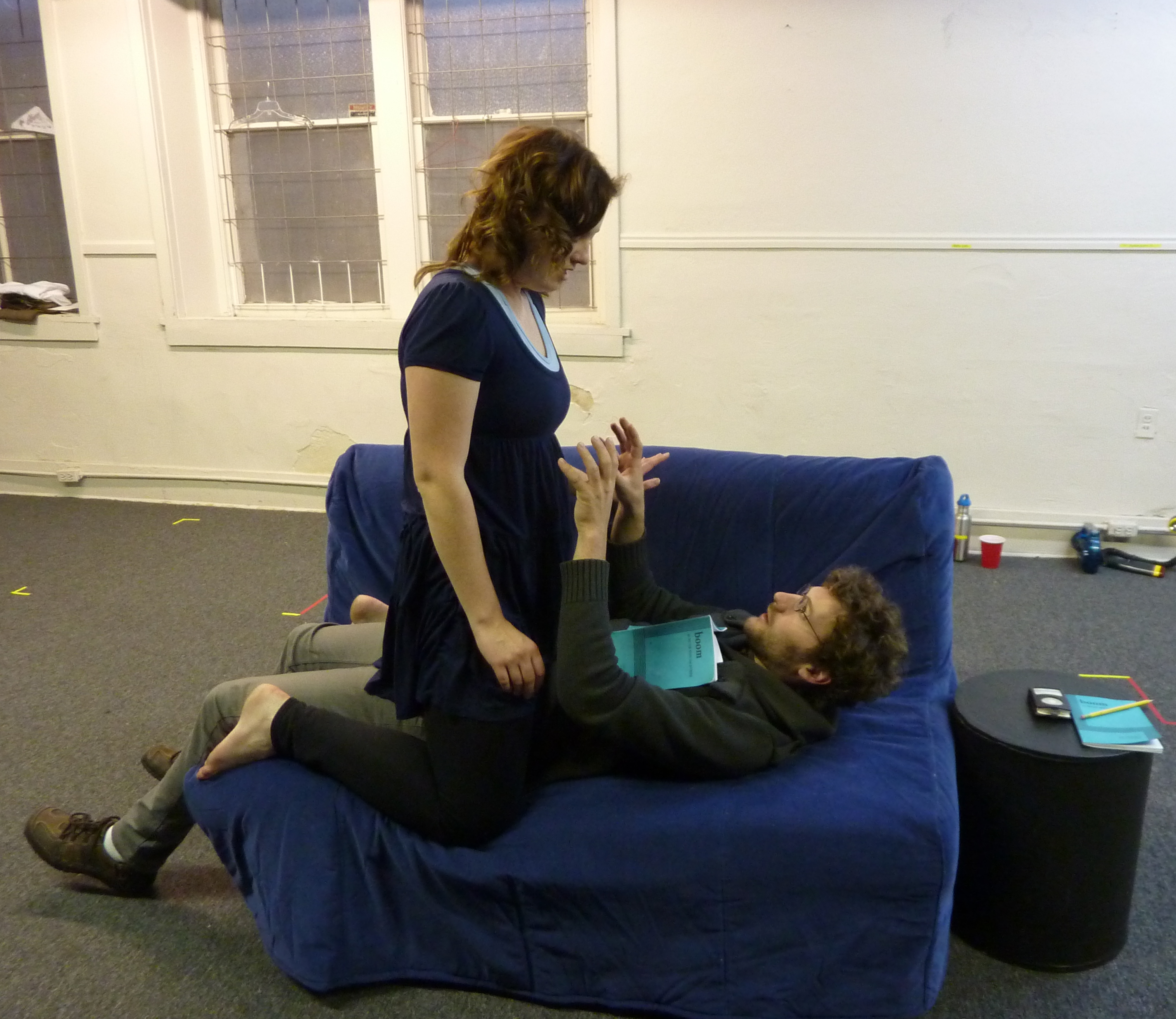 question of the play, too: how much control do we actually have over the directions of our lives? How do they interact with each other -- free will and bigger events that can't be ignored? I think that there's this natural misunderstanding between Jo and Jules; one person taking things to a grand, epic scale and the other person dealing with things on a more personal level.
Robin. I expect audiences to have very different reactions based on their own history. Could you speak to the level of physicality in the play? Has it really varied between the different productions of boom?
Peter. It's definitely always physical. I feel like that's just part of the play, I think that every actress that's played Jo that I've talked to has shown me all the bruises that she's gotten from the production.
Robin. You do some acting right?
Peter. I started as an actor -- and still do some low-grade acting.
Robin. (Laughing) Have you ever played Jules?
Peter. No… I've performed in comedy sketches that I've written, and I kind of did the classic gateway drug of the actor/writer, which is solo performance. I've performed in those, but I've actually not performed in any of the multi-character plays that I've written.
Robin. Would you ever consider it?
Peter. (Laughing) I've thought about it, but not too seriously. I like being separate. At some point I think I'll write something for myself again.
Robin. The actors were curious how many productions of boom you have seen?
Peter. I saw eight or nine of them last season. Every production I've seen has been different as far as pacing and the comedy. The most successful blend of the play is not just funny but also grounded, and we're able to get on board with the characters' journey. That's the challenge of the play – playing the comedy as well as the stakes.
Robin. When you watch your plays, do you sit there and mouth the words? Do you know when people are off?
Peter. (Laughing) I do mouth the words – and I've had this experience where because the play got passed around before it got published, I'd see a production that was not the final version. That was always surprising. "Oh! They're doing the part where I didn't cut that line out…" And then I just keep my mouth shut.
Robin. I'm having a hard time getting Dorothy [the fish] to take direction. I would like you to give me some feedback on Dorothy and how I should approach her. When I read the play, I get really excited about Dorothy, and in my mind, she's doing things – which, of course, I can't get her to do. How much do you see her as a character in the play? And do most productions use real fish?
Peter. (Laughing) Most productions have actually used live fish and yes, she is a real character. I mean, she is the one who wins in the end, really. As far as directing fish… Yeah, that's hard.
Robin. It's been a real pleasure to work on this.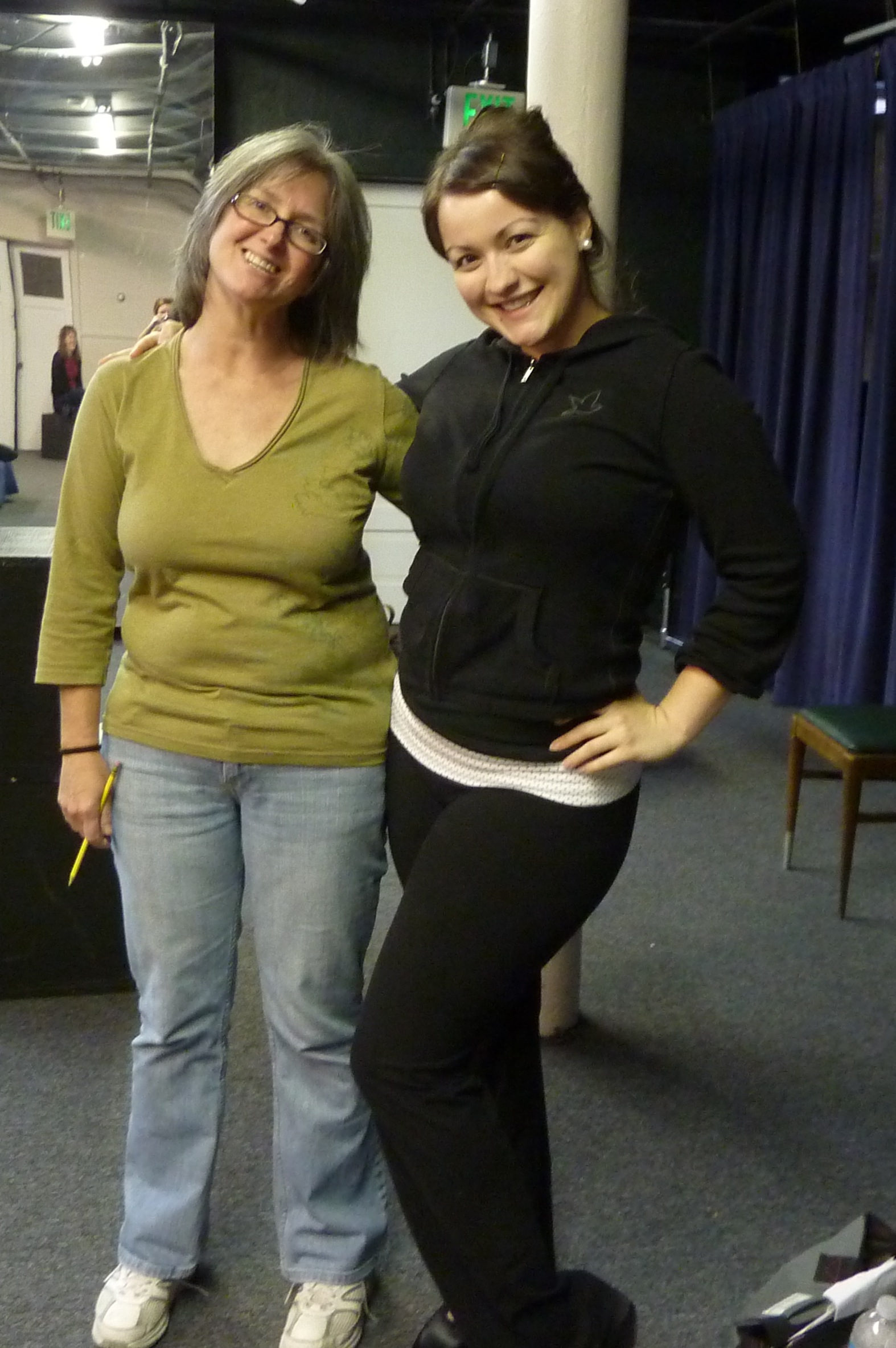 As we say in Utah, "We 'preciate you so much"!
Top L to R: Holly Fowers (Barbara), David Fetzer (Jules), Emily Burnworth (Jo)
Middle Emily Burnworth, David Fetzer
Bottom L to R: Director Robin Wilks-Dunn, Stage Manager Victoria Elena Nones