Description
SLAC opens the season with the Tony nominated, scintillating, smart and sensual VENUS IN FUR by the always brilliant and hilarious David Ives, running September 25 – October 27, 2013. The lines between reality and fantasy are blurred when the determined, uninhibited actress Vanda wiles her way into an audition for Thomas, the young, writer-director of a new play. Power, masochism and seduction abound in this sexy, funny, unforgettable play that "The New York Post" proclaims is "Fantastically funny!"
This fast-moving 90-minute play will show in the 100-seat Chapel Theatre Wednesdays through Saturdays at 7:30 p.m. and Sundays at 1 and 6 p.m. without an intermission.
This production is for mature audiences only.
Cast & Creative Team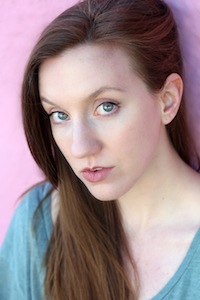 Marza Warsinske (Vanda)
Marza couldn't be happier to be returning to Utah where she studied Musical Theatre at Weber State University. As a student, she was a two-time Irene Ryan Finalist and recipient of the NAPAT Classical Acting Award. Now something of a nomad, she mainly divides her time between Los Angeles and Portland, working in theatre and film. Past stage credits include Eliza Doolittle in MY FAIR LADY (Lyric Light Opera); Annabella/Pamela/Margaret in THE 39 STEPS (Old Lyric Repertory Company); Juliet in ROMEO AND JULIET (Bag & Baggage); and Lula in DUTCHMAN (Process Theater). She is endlessly grateful for her friends and family, and especially wishes to thank Devin for his ongoing support of her penchant for taking her clothes off in front of strangers for money.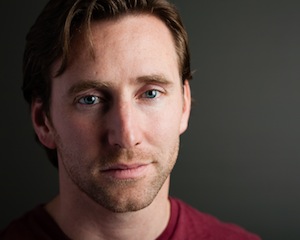 Patrick Kintz* (Thomas)
Patrick is excited and grateful to be back on the stage at SLAC, after playing John C. Calhoon last fall in BLOODY, BLOODY ANDREW JACKSON. A graduate of Brigham Young University with a BA in Theatre Studies, he has also studied at Utah Valley University and most recently with Steppenwolf Classes West. Recent credits include John Proctor in THE CRUCIBLE (UVU); Benjamin in SEVEN BRIDES FOR SEVEN BROTHERS (Sundance Summer Theatre); Actor in THE WOMAN IN BLACK (Echo Theatre); Bishop Egerton in JOYFUL NOISE; and David/Jacob in THE PLAN (Covey Center). Much love and thanks to everyone involved in this wonderful production, all of the crew and especially to Marza and Tracy. Namaste.
David Ives (Playwright)
David is perhaps best known for his evening of one-act plays, ALL IN THE TIMING (he has been included in the "Best Short Plays" series seven times), and for his drama VENUS IN FUR, which was nominated for a Tony Award for Best Play. His plays include NEW JERUSALEM: THE INTERROGATION OF BARUCH DE SPINOZA; THE SCHOOL FOR LIES (adapted from Molière's THE MISANTHROPE); THE LIAR (adapted from Corneille); TIME FLIES; and IS HE DEAD? (adapted from Mark Twain). He has also translated Feydeau's A FLEA IN HER EAR and Yasmina Reza's A SPANISH PLAY. A former Guggenheim Fellow in playwriting and a graduate of The Yale School of Drama, he lives in New York City.
Tracy Callahan (Director)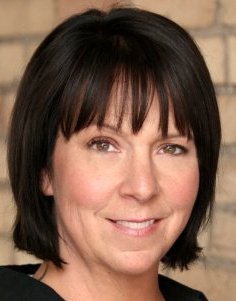 Tracy is a founding member of The Process Theatre Company. Directing credits there include CLOSER (Produced by Wasatch Theatre Company.) and THE DUTCHMAN. Previously Tracy directed MANNING UP, COURSE 86B IN THE CATALOGUE, SIX YEARS, HOW I LEARNED TO DRIVE and MERE MORTALS for SLAC. She is a freelance director in the Salt Lake area where she has directed for Plan-B Theatre and Dark Horse Theatre Company. Tracy heads the Acting and Directing Program at Weber State University where she has directed over 35 productions. Some of her favorite educational productions include; CHARM, UNDER CONSTRUCTION, THE LARAMIE PROJECT, ROMEO AND JULIET, AS YOU LIKE IT, ROAD, SIX DEGREES OF SEPARATION and THE BIRTHDAY PARTY. Two of her productions were presented at The John F. Kennedy Center for the Performing Arts in Washington, D.C. Several other productions have been invited to regional theatre festivals. Tracy is currently working with SLAC's Resident Playwright Julie Jensen on a staged adaptation of the award -winning book "Mockingbird" for The Kennedy Center's Performances for Young Audiences.
K.L. Alberts (Costume Design)
Kevin has designed costumes for more than 30 plays at Salt Lake Acting Company. Past credits include HOW TO MAKE A ROPE SWING, CLICK CLCK MOO: COWS THAT TYPE, RED, GOD OF CARNAGE, I AM MY OWN WIFE, CIRCLE MIRROR TRANSFORMATION and RABBIT HOLE. Kevin has worked with Pioneer Theatre Company for over 25 years where he most recently designed LES MISERABLES and OF MICE AND MEN. He also designs for the Utah Shakespeare Festival.
James M. Craig (Lighting Design)
Jim has designed the lighting for more than 50 shows at Salt Lake Acting Company since 1997, most recently for SATURDAY'S VOYEUR 2013, THE EXIT INTERVIEW, MANNING UP, and BLOODY BLOODY ANDREW JACKSON. He has also designed lights for Plan-B Theatre, Utah Contemporary Theatre, Utah Musical Theatre, The Egyptian Theatre Company, Peery's Egyptian Theatre, Odyssey Dance Theatre, The Grand Theatre, Weber State University, The Emily Company, Georgia Shakespeare Festival, Virginia Stage Company, The Generic Theatre, Little Theatre of the Rockies, U of U Youth Theatre, U of U Lyric Opera Ensemble and Theatre Inc. Currently Jim is the Technical Director for the Park City Institute. He holds a BS in Theatre from Weber State University, and is a member of United Scenic Artists Local 829.
Josh Martin (Sound Design)
Josh is delighted to work on another Salt Lake Acting Company production. Selected sound design credits for Josh include SATURDAY'S VOYEUR 2010, 2011, 2012, 2013 THE EXIT INTERVIEW, CLICK CLACK MOO, GOD OF CARNAGE, (A MAN ENTERS), HOW I BECAME A PIRATE and RED. In addition he is the Master Electrician at SLAC.
Adrianne Moore (Dialect Coach)
Adrianne is delighted to be working with Salt Lake Acting Company once again. She served as dialect coach for BLOODY BLOODY ANDREW JACKSON, RED, ANGELS IN AMERICA, CHARM, THE CARETAKER, END DAYS, CLEAN HOUE and SKIN IN FLAMES. Previous directing credits for SLAC include CIRCLE MIRROR TRANSFORMATION, HOLD PLEASE, WATER IMAGES, ANCIENT LIGHTS and HOW TO MAKE A ROPE SWING. She also directs regularly for the Old Lyric Repertory Company and other Utah theatre. She is a professor of voice and directing at Utah State University. A native of New Zealand, Adrianne worked as a director and actor in NZ, Australia and England before coming to the U.S. She holds a graduate diploma in theatre directing from the British Theatre Association in London and an MFA in direction from Florida Sate University. Adrianne is a member of the Stage Directors and Choreographers Union.
Jennie Sant* (Stage Manager)
Jennie has worked at Salt Lake Acting Company as the AEA Stage Manager on MANNING UP, THE PERSIAN QUARTER and ANGELS IN AMERICA PARTS I & II. She has also worked at The Egyptian Theatre Company as the AEA Stage Manager on PAGENT and THE MUSIC MAN. Pioneer Theatre Company as the 1st ASM on LES MISERABLES, PAINT YOUR WAGON, DOUBT, A MIDSUMMER NIGHTS DREAM, THE FOREIGNER, VERTICAL HOUR and THE PRODUCERS. She was also the ASM for NEXT TO NORMAL. Other credits stage managing includes ANGELS IN AMERICA PARTS I & II at the Babcock Theatre, TRUE WEST in Studio 115, HENRY V and MEASURE FOR MEASURE for Salt Lake Shakes and TALKING WALES II for Utah Contemporary Theatre.
Keven Myhre (Executive Producer, Set & Props Design)
Keven received the Mayor's Artists Award in the Performing Arts in 2009. He was awarded the 20008 City Weekly Award for directing THE CLEAN HOUSE and MOONLIGHT AND MAGOLIAS at Salt Lake Acting Company. His other directing credits at SLAC include BLOODY BLOODY ANDREW JACKSON, RED, ANGELS IN AMERICA: PARTS I & II, THE OVERWHELMING, RABBIT HOLE, I AM MY OWN WIFE; BAD DATES, KIMBERLY AKIMBO, GOING TO ST. IVES, WATER LILIES, THE MEMORY OF WATER, TWO-HEADED, THE BEAUTY QUEEN OF LEENANE, GROSS INDECENCY: THE THREE TRIALS OF OSCAR WILDE, C'EST MOI in MERE MORTALS and THREE DAYS OF RAIN. Keven has designed all of SLAC's sets and many of the costumes for the last 18 years. He has also designed 16 sets for The Grand Theatre. He designed sets for ACCORDING TO COYOTE, WEEST SIDE STORY, CROW AND WEASSEL, and SOUTH PACIFIC at Sundance Theatre. His designs have also been seen at Pioneer Memorial Theatre, Utah Musical Theatre, Egyptian Theatre, Kingsbury Hall and the Babcock Theatre. His for the Utah Arts Festival includes site design for the 20th anniversary. He received a BFA from the University of Utah and a MFA in Theatre from the University of Michigan.
Cynthia Fleming (Executive Producer)
Cynthia has been in the world of dance and theatre professionally for over 35 years, during which time she performed in the Broadway, national and International companies with A CHORUS LINE. In 1978 as a U of U Theatre student, her performing relationship with SLAC began. Since 1995 she has worn many hats at SLAC, including Choreographer, Director, Box Office Manager and Director of Audience Services. She conceived and created the position of Director of Communication and Audience Development and assembled the communication team to generate a renewed energy and excitement about the theatre before taking on her current position as Executive Producer. Cynthia remains a working artist in the theatre and has choreographed SATURDAY'S VOYEUR for 16 years and directed the musical for five years. She has choreographed many SLAC productions including THE PERSIAN QUARTER; GO, DOG. GO!; BAT BOY THE MUSICAL; AND WATER LILIES from CABBIES; COWBOYS; and THE TREE OF THE WEEPING VIRGIN. Cynthia is proud to serve SLAC and its mission to develop and produce vital new work.
VENUS IN FUR Broadway Producers
Jon B. Platt, Scott Landis, MTC Productions Inc. Lynne Meadow, Barry Grove, Jessica R. Jenen, Scott M. Delman, and Classic Stage Company. Lead producer Jon B Platt's producing credits inclue some of the most honored dramatic work in Broadway history: ANGELS IN AMERICA: MILLENIUM APPROACHES (Pulitzer Prize winner), PERESTOIKA, THE BOOK OF MORMON, WICKED, COPENHAGEN, GOD OF CARNAGE, DEATH OF A SALESMAN and CLYBOURNE PARK (Pulitzer Price Winnter). In addition to his 7 Tony Awards, Mr. Platt has received 10 New York Drama Desk Awards and 5 New York Outer Critics Circle Awards, and the Robert Whitehead Award for Distinguished Producing in the Commercial Theatre in 2012. Tony award winning producer Scott Landis' credits include THE CHILDREN'S HOUR (West End), LA BETE, THE PAJAMA GAME and NICE WORK IF YOU CAN GET IT. Manhattan Theatre Club, led by Artistic Director Lynne Meadow and Executive Director Barry Grove, is one of the nation's leading non-profit theatres producing innovative and diverse work by playwrights at all stages of their careers, at its Broadway and Off-Broadway theatres. Plays that debut at MTC are performed across the country and around the world, and 6 of them have won Pulitzer Prized: DOUBT, PROOF, RUINED, RABBIT HOLE, CRIMES OF THE HEART, and THE PIANO LESSON; Jessica R. Jenen produced An Evening with Patti Lupone & Mandy Patinkin, and while Executive Director of Classic Stage Company, produced the world premeire of VENUS IN FUR, as well as THREE SISTERS, UNCLE VANYA, THE TEMPEST, amont others. Classic Stage Company is the premiere Off-Broadway theatre dedicated to reimaging the classical repertory for a contemporary American audience. Scott M. Delman is a private equity investor at DGZ Capital who has co-produced THE BOOK OF MORMON, AMERICAN IDIOT, MARY STUART and RAGTIME.
* Member of ACTOR'S EQUITY ASSOCIATION (AEA) – founded in 1913, represents more than 45,000 actors and stage managers in the United States. Equity seeks to advance, promote and foster the art of live theatre as an essential component of our society. Equity negotiates wages and working conditions, providing a wide range of benefits, including health and pension plans. AEA is a member of the AFL-CIO, and is affiliated with FIA, an international organization of performing arts unions. The Equity emblem is our mark of excellence. www.actorsequity.org
Press & Reviews
Photos
VENUS IN FUR by David Ives at Salt Lake Acting Company from September 25 - November 3, 2013 With Patrick W. Kintz & Marza Warsinske | Directed byTracy Callahan
Photos by David Daniels of Dav.d Photography