Description
A free-spirited teacher, her hippy husband, a newly single carpenter, a flirty former actress and an over-achieving 16-year-old begin a six-week creative drama class in a small Vermont town.
Ak mak, goulash, hula hoops, and secrets...
Cast & Creative Team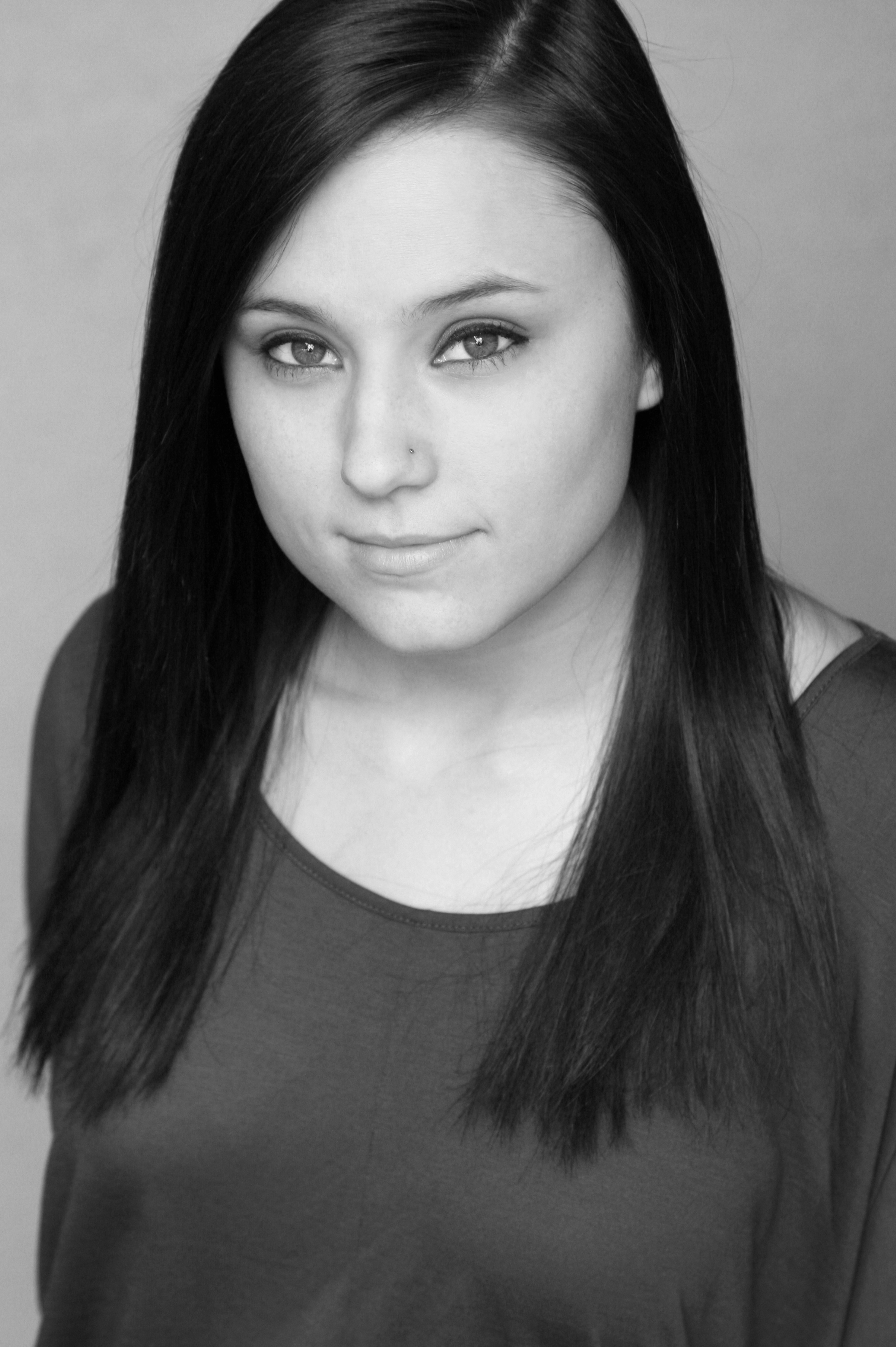 SHELBY ANDERSEN (Lauren) is thrilled to be making her debut at Salt Lake Acting Company in Circle Mirror Transformation! Shelby is a junior in the musical theatre department at Weber State University. Some of her favorite roles include Olive Ostrovsky in THE 25TH ANNUAL PUTNAM COUNTY SPELLING BEE, TiMoune in ONCE ON THIS ISLAND, and Dorine Tenbrook in Jim Christian and Tom Clark's SLEEPY HOLLOW. Shelby has performed at Kingsbury Hall, The Egyptian, Rodgers Memorial Theatre and Babcock Theatre as well as Valenciennes, France and San Diego, California with Youth Theatre at the U. She is so excited about Circle Mirror Transformation and the opportunity to perform at SLAC!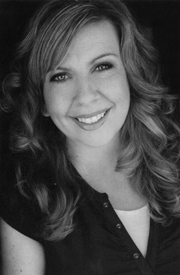 COLLEEN BAUM (Marty) is happy to be back at Salt Lake Acting Company. She was last seen at SLAC in ANGELS IN AMERICA. Other SLAC credits include GO DOG GO, END DAYS, SEX STING, RABBIT HOLE, KIMBERLY AKIMBO, CABBIES COWBOYS AND THE TREE OF THE WEEPING VIRGIN and THE WATER PROJECT. At Plan-B Theatre Company in the LARAMIE PROJECT: 10 YEARS LATER, AN EPILOGUE, LARAMIE PROJECT, ANIMAL FARM, WAR OF THE WORLDS, AND THE BANNED PLAYED ON, TRAGEDY: A TRAGEDY and SLAM; and the Old Lyric Repertory Company in BLITHE SPIRIT, MOUSETRAP, ALWAYS PATSY CLINE, GOODNIGHT DESDEMONA GOOD MORNING JULIET, SERVANT OF TWO MASTERS, BLOOD BROTHERS, POOL'S PARADISE, and THE UNEXPECTED GUEST. Colleen is a proud member of the Actor's Equity Association.
MICHAEL TODD BEHRENS (Schultz) is very happy to be returning to SLAC. Previous SLAC appearances have been Tom inSIX YEARS, Michael in ROUNDING THIRD, Jaisu in POLISH JOKE and Bill in LOBBY HERO, as well as two SATURDAY'S VOYEURS. Other local credits include PRIDE AND PREJUDICE at Pioneer Theatre Company as well as HENRY V, THREE MUSKETEERS, COMEDY OF ERRORS, PEER GYNT, ST. JOAN AND THE MISER. Elsewhere Michael has appeared as Hamlet for TheaterWorks West, Lloyd in NOISES OFF, Sydney in LIGHT UP THE SKY, Froggy in THE FOREIGNER, Jane/Lord Edgar in THE MYSTERY OF IRMA VEP, Durdles in THE MYSTERY OF EDWIN DROOD, and Clotaldo in LIFE IS A DREAM all for Creede Repertory Theater. Michael can be seen and heard in countless radio and television spots as well as film. Michael is a graduate of The University of Utah's Actor Training Program and is a proud member of the Actor's Equity Association.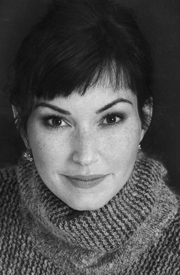 ALEXANDRA HARBOLD (Theresa) Local credits: SIX YEARS, ICE GLEN (Salt Lake Acting Company), HAMLET (Pioneer Theatre Company), LIVING OUT, FAT PIG (Pygmalion Theatre), and DANCING AT LUGHNASA, THE SEAGULL (Pinnacle Acting Company). Other credits include: FANTASIO (Theatre Row Theatre/NYC), MRS. KLEIN (NXT/London), and IN PERPETUITY THROUGHOUT THE UNIVERSE (AFA/Houston). Directing credits: THE PERSIAN QUARTER and NPSS readings of T.I.C., THE PERSIAN QUARTER, and PROPHETS OF NATURE (SLAC), ROMEO AND JULIET, RABBIT HOLE, and THREE DAYS OF RAIN (PAC), Script-in-Hand readings and SLAM (Plan-B). Education: BA, Middlebury College; Masters in Performance Studies, University of London Goldsmith's College. Training: SITI Company's Summer Intensive at Skidmore.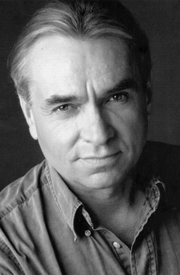 MORGAN LUND (James) last seen here, as Creon in TOO MUCH MEMORY is very excited to return to SLAC. Morgan and his wife Jinni are the Artistic Director and Producing Director of The OtherSide Players a new professional acting company in residence at the Rio Theatre in Helper Utah. They have just completed their first season which included the plays: THE COMPLETE WORKS OF SHAKESPEARE…… ABRIDGED, WAKE UP AND SMELL THE COFFEE, GREATER TUNA AND THE PRICE. Morgan has been a professional actor/writer/producer/director/teacher and artist for 30 years. A union member in three U.S. union affiliations Morgan has worked with LORT Theatres, Film, Television, Radio, Print, Small Business, Corporate America, World Class Opera and Orchestras, Dance Companies, Theme Parks, Universities and Colleges all around the United States and beyond. An actor since 1980 Morgan has appeared in over 200 plays. He has been a resident company member with the prestige's Hilberry Acting Company (1977-80), The Cleveland Play House Resident Acting Company (1980-88). A freelance actor since 1988 he has worked with companies that include Center Stage, Actor's Theatre of Louisville, New City Theatre, Ensemble Theatre, CAT CO, Shakespeare and Company, Dobama Theatre, Porthouse Theater, Pioneer Theatre Company and many more. He has shared the stage with Arthur Miller, Austin Pendleton, Derek Wolcott, Johnny Bolt, Roger Danforth and Tina Packer to name just a few. As a television and film actor, Morgan has been in some very good and some not so good films. He once had three different feature films running on HBO at the same time, in one of which he died…horribly! He has also been a guest artist with the Sundance Film Lab on many occasions and is currently waiting the release of the German made film REMEMBER I WILL ALWAYS LOVE YOU.
Press & Reviews
SLAC Sparks
ANNIE BAKER grew up in Amherst, Massachusetts. Her full-length plays include Circle Mirror Transformation (Playwrights Horizons, OBIE Award for Best New American Play, Drama Desk nomination for Best Play), The Aliens (Rattlestick Playwrights Theater, OBIE Award for Best New American Play), Body Awareness (Atlantic Theater Company, Drama Desk and Outer Critics Circle nominations for Best Play/Emerging Playwright) and Nocturama. Her work has also been produced and developed at the Bush Theatre in London, New York Theatre Workshop, MCC Theater, Soho Repertory, The Orchard Project, Ontological-Hysteric Theater, Ars Nova, Huntington Theatre Company, Victory Gardens Theater, Z-Space/Theatre Artaud, Magic Theatre, The Cape Cod Theatre Project, the Bay Area Playwrights Festival and the Sundance Institute Theatre Lab in Utah and Ucross, Wyoming. Ms. Baker is a member of New Dramatists, MCC's Playwrights Coalition and EST, and an alumna of Youngblood, Ars Nova's Play Group and the Soho Rep Writer/Director Lab. Recent honors include a New York Drama Critics Circle Award, a Susan Smith Blackburn Prize nomination, a Lilly Award, a Time Warner Storytelling Fellowship, and a MacDowell fellowship. An anthology of her work, The Vermont Plays, is forthcoming from TCG in 2011. MFA, Mac Wellman's playwriting program at Brooklyn College.
Word of Mouth
What people are saying about Circle Mirror Transformation...
"Amazing! Funny, and... I admit very close to some of my own memorable situations... Too close once or twice. Great Job!" - Jayne Maxwell-Butler
"Opening night was great! What a cast, we loved every minute!" - Deena Marie Manzanares
"Loved the show, great work by everyone!" - Jason Bowcutt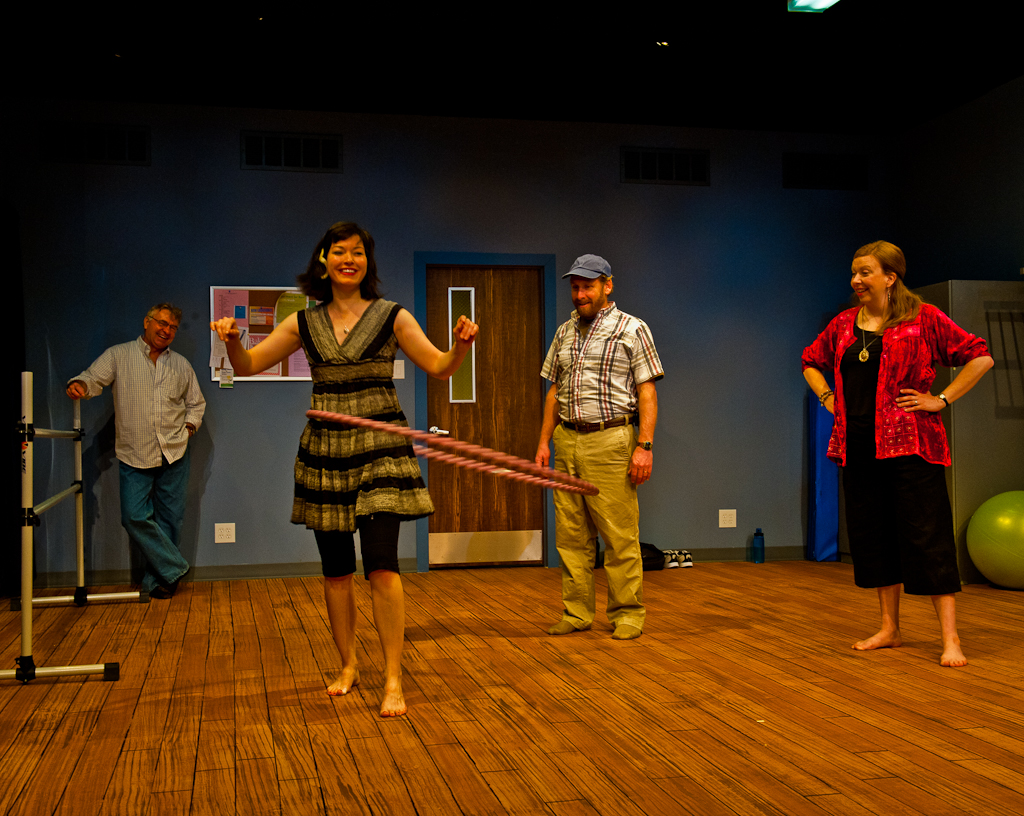 "Salt Lake Acting Company did it again. Must see Circle Mirror Transformation! This play offers something for everyone... Our whole family loved it! Also, this is the time to renew your season tickets. Great entertainment for a great price! You'll love it!" - Joan Brinton
"I was thrilled that Circle Mirror Transformation wasn't a neat little packaged play that answered all my questions. It surprised me and made me think." - Amber Peck (Utah Theatre Bloggers Association)
"Great show! A lot of fun!" - Cindi Romney Evans
"This was an excellent play, my favorite of this season!" - Jennifer Stone
In the Room
March 8, 2011
A Celebration of 25 Years of Transformations at Salt Lake Acting Company
In the Room with SLAC Joint Executive Director & Resident Set Designer Keven Myhre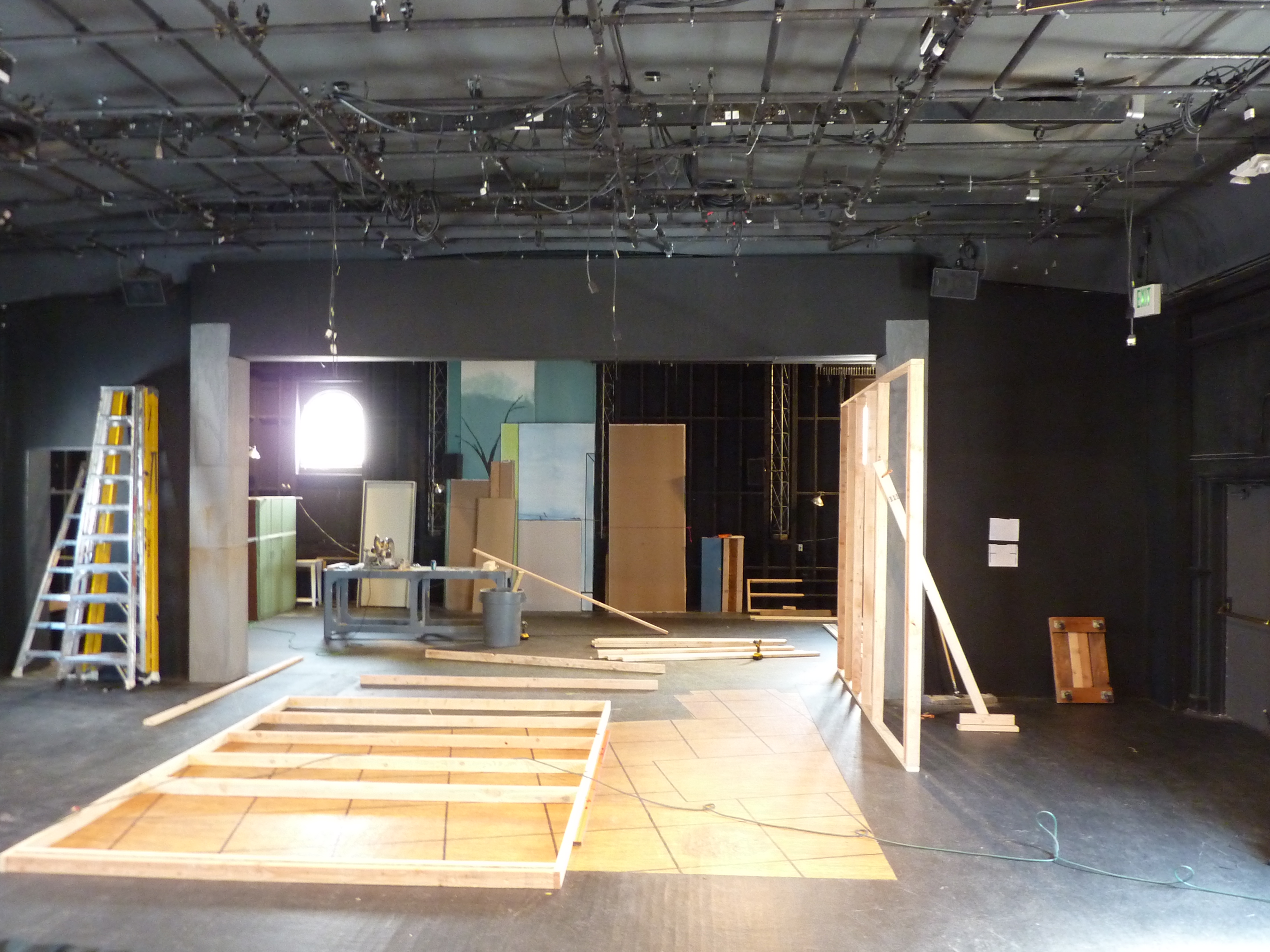 SLAC. How did you become a Set Designer?
KEVEN MYHRE. It all started back in nursery school. We were living in England at the time. Because my brothers were in school, they got to go see a play. I wasn't old enough yet because I wasn't in proper school, I was only in nursery school. So I was taken to see a play of Cinderella; the only thing I remember about it was that the pumpkin turned into a carriage – and it was the most magical thing I had ever experienced in my life. So then, whenever I had the opportunity to see a play, I would go. I remember there were times when no one else in my class would go, so my parents would drop me off and pick me up.
In high school, I took some tech classes from Carol LaForge and worked on some shows. I built my first model for The Miracle WORKER and was just intrigued by the whole process of designing a show.
Later I was fortunate enough to see a movie called The Day of the Locust, based on a novel by Nathanael West. It dealt with a theatre designer who went to Hollywood, and I thought, "They have people who do that job. There's a job out there." It's a really a dark '70s movie with Karen Black and Donald Sutherland about everyone flocking to Hollywood to transform their lives. The movie captures the glamour versus the façade of Hollywood. And I realized that there were people that designed sets for a living.
Then I went to the U, and I was undecided on my major. I happened to be in a general theatre class, and one of the requirements was that you had to attend a certain number of outside events. The world-famous opera designer Robert O'Hearn came in to speak at the Babcock. I don't know how they got him here or what it was about it, but it just interested me, so I went – and it just clicked – "He's making a living doing this. I can, too." That was in the spring quarter, so the next year I just went into theatre.
I took set design classes from Pioneer Memorial Theatre Resident Set Designer Ron Crosby, who was just an incredible artist and stage designer. I took Beth Novak's costume class; she suggested that I try designing costumes, so I did that. Peter Willardson was the Lighting Designer at that time, and I did some lighting design. I was fortunate enough to get paid for my first design out at the Lagoon Opera House. I showed Robert Hyde Wilson some of my class designs and he said, "Here's the script for DAMES AT SEA. Go ahead and draw up some sketches for me, and I'll see if I hire you."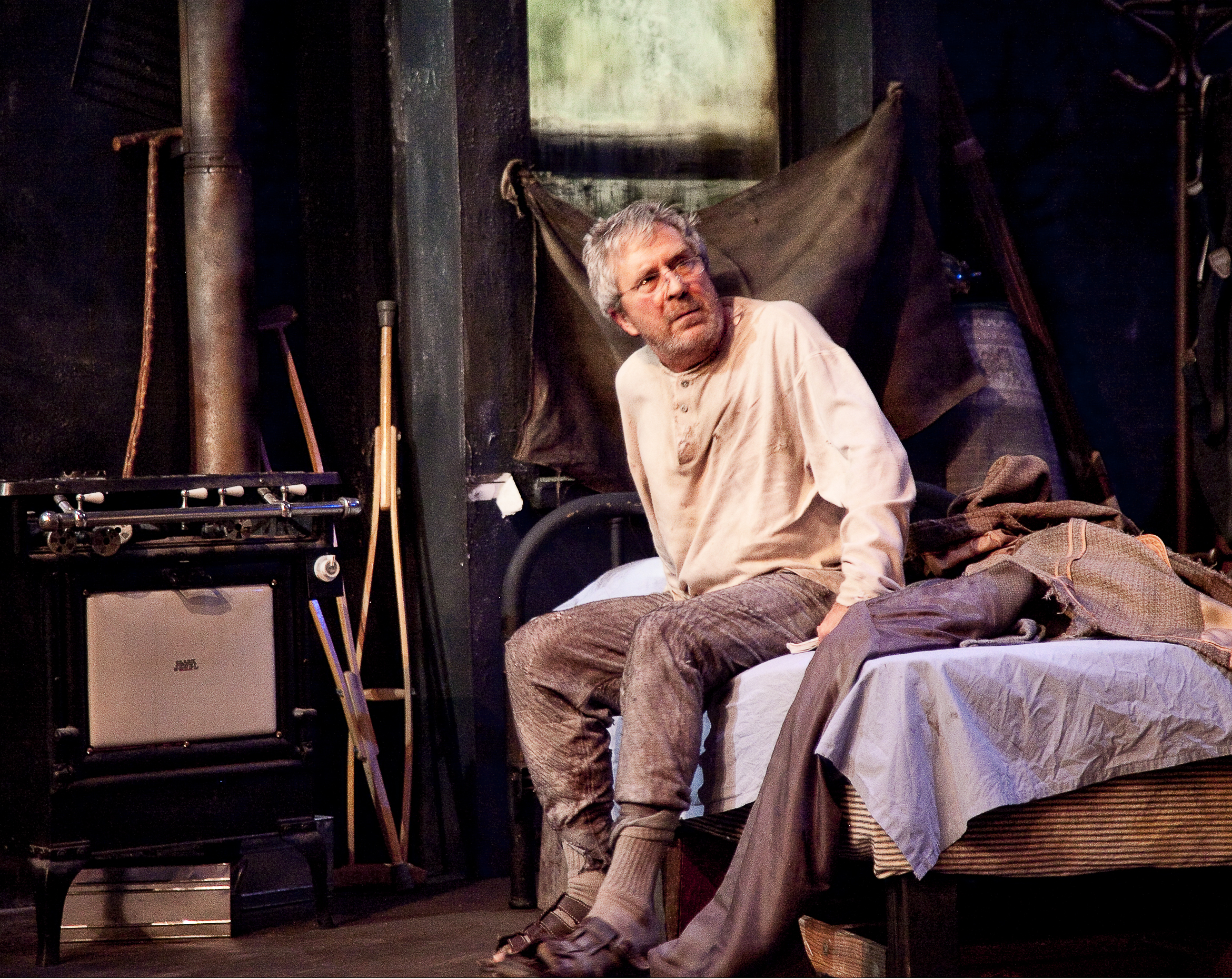 My first show with Salt Lake Acting Company was two one acts: BIGFOOT STOLE MY WIFE and MONTANA. Ron Carlson wrote BIGFOOT STOLE MY WIFE, a comedy of monologues ripped from the tabloid headlines in which the characters came to life on stage. The second one act was MONTANA by David Kranes, which was about a successful daughter coming home to her mother.
SLAC. Were there two distinct sets?
KEVEN. Essentially, the set for BIGFOOT STOLE MY WIFE was a series of slides, which gave the tabloid headline for that particularly character. For MONTANA, the set was a mountainscape with suggestive cutouts.
SLAC. Were you an artist prior to becoming a Set Designer?
KEVEN. I had art classes in junior high. The art class that I took my freshman year of high school was taught by the football coach. Then in college, I took all the art classes I could in association with theatre. I give credit to Maureen O'Hara Ure for really teaching me how to draw. Her class was the first time where everything just clicked – that it was a craft. It both solidified me and just really opened me up.
SLAC. Were you designing sets here at SLAC while you were at the U?
KEVEN. No, while I was in school, I did volunteer work at Salt Lake Acting Company… My first volunteer job here was MULEBONES by Al Brown. A friend of mine had designed the set for the show. It was still a new space for SLAC; there was no air conditioning, the seats were folding chairs… The play was set out in the desert, so they wanted sand in the theatre. I don't know how long it took. We got a wheelbarrow and planks and just hauled and hauled and hauled sand upstairs into the theatre. At the time, SLAC got a cat named Mulebones, who had the run of the building. That's why I'm so opposed to having animals in a theatre now; if you give a cat a kitty litter box, it will use it…
My first paying job at SLAC was when SATURDAY'S VOYEUR featured a spoof with Barney Clark, the first recipient of the Jarvik artificial heart, and they had a heart machine that I helped build as a prop. I helped build props for shows here and there. Then in '86 I did the set design for David Kranes' MONTANA and Ron Carlson's BIGFOOT STOLE MY WIFE.
After that I went to the University of Michigan and got my Masters in Set Design. I had my ambitions of being a New York-based designer. I did interviews at Yale and NYU thinking that's where I wanted to go. I got accepted at NYU with a minor partial scholarship. I did not get accepted at Yale. I did the URTAs to do interviews and to brush up on speaking about my designs in front of groups; the URTAs had a big cattle call where you had five minutes to show your designs and sketches to an audience of professors from around the country. I was surprised that a lot of the schools wanted a follow-up interview with me.
The University of Michigan had two designers who were working out of New York City at the time: Laura Crow and Richard Nelson; Laura Crow had BURN THIS on Broadway and Richard Nelson was the designer for Into the Woods with Peter Beudert, a regional Set Designer. The University of Michigan offered me a full ride. When I weighed the partial scholarship at NYU and the full ride and connections offered by the University of Michigan, I made the decision to go to the University of Michigan… There was also a real variety of strong performing arts programs, including an incredible opera department. You could design opera; you could design musical theatre. They had a mainstage theatre and two smaller spaces.
Your third year you had an internship away from college, and I was able to get an internship with Victor Di Napoli on Sesame Street and did that for a season, and then I did scene painting work back here, and it just evolved into where I am today. I had every intention to go back to New York; my stuff was in storage in my aunt's house in Jersey. It was there for five years after I had come back and was working here.
SLAC. What year did you come back?
KEVEN. I think it was '90 – or '91. A long time ago now.
SLAC. So you gave up New York to work at SLAC for 5 cents an hour.
KEVEN. What was interesting is that I was designing costumes and sets around town, and I didn't have anything else lined up. I was doing costume design for a Babcock show that was going to be ending, and I had a show that I was working on here – Salt Lake Salt Lake. I had just done NUNSENSE. I knew the financial situation here wasn't that good, so I was thinking that I would be going back to New York. Then Allen Nevins called me at the Babcock PMT Costume Shop and asked me if I had any plans, and if I wanted to work at SLAC starting in January. They were going to take over the theatre after SALT LAKE SALT LAKE closed. I said yes. I'd designed costumes for VOYEUR when it was at the Green Street and had worked with Al and Nancy. You see those opportunities and you just fall into them – or you grab them.
SLAC. So you've designed for SLAC, the Babcock, Sundance, the Grand…
KEVEN. I filled in for a friend at the Promised Valley Playhouse, but that was before moving away. I was interviewed by the Hale Theatre at one point...
SLAC. You've designed more than 100 sets for SLAC. Do you have favorites?
KEVEN. You know, not really. Theatre is such a fleeting experience. It's all about focusing on what you're working at that moment. I'll occasionally look at pictures and cringe, but pictures don't really serve the play. They help to keep a visual record of it, but really it's all of the sources coming together in that moment that makes theatre. It takes so many people to do it: the audience, the actors, the playwright who gives that vision or map to go off of, the builders, the painters, to the person you meet when you're out buying props. All of those people make that moment possible. From my own point of view, you have to be able to let go of things immediately, and I think that you have to live your life that way. It is such an impermanent world. That's my philosophy.
SLAC. You have no models.
KEVEN. In essence that's to my own detriment. I'll see coffee table books of designers, and I'll think, "Isn't that gorgeous work?"
SLAC is a great experience for me because I get to do so many things, and it's not just about designing. I can't be too obsessive with each design because there are other directions I need to focus my attention in; that also helps me get things done quickly, so I'm not laboring over it. It's not that the design isn't important to me, but there comes a time when it's all about deadlines. And that also interests me: I have to be done here – that's the cut off date – and then I have to move on to the next project. I give directors a vague notion of what the set will be, depending on whether I've worked with them. A white model is the extent of it, and then I guess that they have to take a leap of faith that I know what I'm doing. Because I'm not simply the designer and only have to care of that aspect, I don't physically have the time to do more than that, the renderings, etc. That situation at SLAC is unique, though I'm sure there are other theatres around doing the same type of thing.
Each play is a new experience. That's part of the thrill. Every eight weeks there's a brand new thing to work on that you've never worked on before. Who wouldn't want that in their life, that total turnaround? "I'm done with that, now I get to focus on this for eight weeks." Each play is totally new. I have repeated a couple of shows. There was such a contrast between the two ANGELS IN AMERICA; it just spoke to me differently the second time than it did the first. That's what's great about Salt Lake Acting Company, too; the plays demand that you dig into them and find out how you transform a poetic script into a physical structure.
SLAC. If the script doesn't spell out what the world needs to look like, does it just come to you?
KEVEN. I don't know what I'm going to do until I do it – even if it is spelled out. Creativity is about letting go and trusting that you know what you're doing. At that point when I'm sitting down to design, I know the script, I have guidance from the director, I have guidance from the playwright, I know what our physical theatre can hold, and I've done the research for the play. I just sit down and go at it. Things will come, and if I'm lost, I'll just ride it out. I may see something and think, "That's it." It may be a color, it may be a piece of wood, it may be a piece of pottery, whatever – but I'll know, that's the set.
SLAC. Do you think you approach a script with a designer's mind? You've had so many roles here – as both director and designer – do you have a particular mindset when you read a script?
KEVEN. No, I just read. If the play transports me, it's good. The characters have to transport me, not the space. The characters inform where I go. It's the language that transports you.
SLAC. You're also on a budget. Would you be designing differently if you had more money?
KEVEN. It's interesting. When you are in school, you do theoretical projects where you have an unlimited budget and you come up with all these ideas and usually you don't have a director who helps you. You do your grand vision, and it's a fine process to start figuring out what you need as a designer.
It was so great for me as a student at the U to work with Ron Crosby and Beth Novak. Ron was an artist and would come up with whatever and make it work. Beth gave me a structure: taking this artistic view and giving me a grounding of how to get from A to B to C to the final result. That helped click in both of those worlds, that there has to be a practical side to theatre as well as the artistic side. From my point of view, if you can't design a simple set well then you're not going to be able to design a grand set well. If you can't make your vision simply, adding more to it isn't going to help make it an interesting production. It doesn't have to be a big set to be interesting, but it has to be the right thing. It's no different from finding a good chair and mattress for the Persian Quarter; if that's what the set is, then they have to be right.
The audience comes to see the play. Any space, any budget is going to determine what the play is. My whole objective is to make the play feel like it's the only natural thing for this space at this moment, and then the audience goes home. I don't want to see anything that distracts from that. I'm just trying to create part of the whole overall experience for the audience.
SLAC. It's all about serving the play for you.
KEVEN. It's collaborative… The main thing is that it's not just me. Theatre is a collaborative art. When I turn over plans or talking thru a script with a director, that's the interesting part. What it takes to get to the moment with the audience there – laughing or crying or hopefully being moved in some sense of the word – that's what theatre is, and that's what set design is for. It's just one spoke in the wheel.
Part of the allure of theatre is that it is scripted; it is mapped out with a beginning, middle, and an end – that's different than anything else we experience. I believe that stories transform us and affect the way we live our lives. We learn who we are through stories.
SLAC. Thank you Keven.