March 06, 2015
Last week our inaugural Salt Lake Acting Company Playwrights' Lab brought together 30 of the most creative, generous, thoughtful, and adventurous people to dedicate their talents to the development of two new scripts – HARBUR GATE by Kathleen Cahill and BOY ABOUT TEN by Jon Tuttle.
This Lab was born out of a conversation between Cynthia (SLAC Executive Producer) and David Kranes last April. David is an artistic gem in this community. For 14 years he ran the Sundance Playwrights Lab and he generously brought his wealth of play development knowledge and his network of brilliant likeminded artists to spend a week at SLAC.
Shannon Musgrave and Janice Jenson, SLAC Associate Producers, were each in a room throughout the week. Janice recapped what it was like to spend a week working on BOY ABOUT TEN by Jon Tuttle, and now Shannon shares her experience in the room with HARBUR GATE: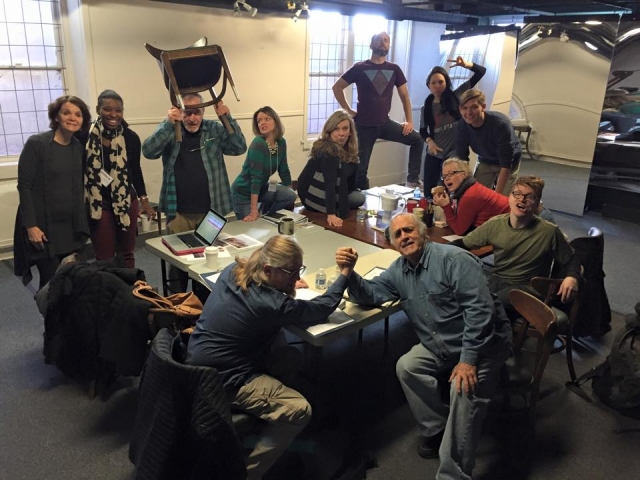 The SLAC Playwrights' Lab was one of the most creatively fulfilling weeks I've ever experienced. I was privileged to spend most of the week in the room with the HARBUR GATE team. This newest work from the brilliant mind of Kathleen Cahill focuses on the lives of six beautifully unique and diverse veterans of the Iraq war. The script was investigated by an amazing team – Tamilla Woodard (director), Erik Ramsey (dramaturg), Colleen Baum, Daniel Beecher, Nicole Cardoni, Will Manning, Topher Rasmussen, and Joleen Wilkinson (actors). Splitting their time between the two projects were the inventive minds and bodies of Charlotte Boye-Christensen (choreographer), Bill Harley (storyteller), Kenny Raskin (improv artist), Richard Rice (musicologist), Shannon Robert (visual artist/designer), and of course David Kranes – the mastermind behind it all.

HARBUR GATE is a very personal look at how war affects the lives of those on the front line. Kathleen has incredible stories about her meetings and interviews with veterans whose accounts inspired and informed the script. Kathleen was also moved by the documentary The Invisible War, which examines the ever-increasing incidents of sexual assault within the U.S. Military, and the book The Evil Hours: A Biography of Post-Traumatic Stress Disorder. HARBUR GATE is a play in three parts, each with two characters, and is at the beautiful intersection of war and art – theatre. In warfare, a theatre is an area or place in which important military events occur or are progressing. Or, as was decided in the HARBUR GATE room, theatre = where shit happens.

DAY 1
Our first day was spent reading the script several times, hearing different actors' voices in different roles. They each brought something unique to the characters and it was really interesting and a testament to the strong writing to see how well the play carries.

In the afternoon, we invited Charlotte Boye-Christensen and Shannon Robert into the room to help visualize a physical language that might help connect each piece.

DAY 2
In the morning, Kathleen brought in a new beginning to the first piece and asked Colleen, Joleen, and Will to improvise what might be happening right before the play begins. It was so compelling to watch these brave, talented actors embody characters that they were just beginning to know. I think their improvs helped Kathleen get a clearer understanding of how to show the relationships between characters who may or may not ever be in a scene together.

Before the lunch break, our Lab company met our Board of Directors. Everyone got to share a little about themselves and articulate the value of an experience like this Lab. It was a lovely way to thank our Board for saying yes to this new venture.

In the afternoon, Kenny Raskin joined our room for character interviews. He spoke with each character for about 15-20 minutes, asking them things about themselves that may or may not be in the script. It was very illuminating, not only to gain a deeper understanding of the characters, but also to see possibilities within them.

We talked about the differences between the Army and the Marines; we talked about the differences in ranks; we talked a lot about the differences between men and women. This play and this process sparked some really fascinating conversations.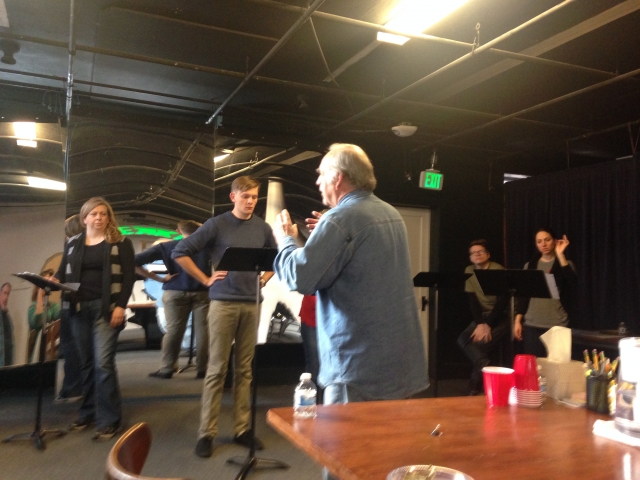 DAY 3
Richard Rice led the actors in some musicology exercises. The cast stood with their scripts on music stands and conducted themselves as they said their lines. They were asked to consider rhythm, tempo, and dynamics. It was amazing to see and hear how much music exists in Kathleen's words (she attributes it to her musical theatre background) and how informative it is in terms of the characters' tempos. The question was posed, "If this play were a jazz band, which character would be which instrument?" It was a really interesting way to analyze not only the characters, but their relationship to the story and to each other.

In the afternoon Charlotte came back to help construct some movement. She led the cast in exercises where they would fall and catch each other, which evolved into the physical storytelling of a character in the third section who was sexually assaulted by two other Marines. It was an incredibly visceral and sort of gut-wrenching experience to watch the abstract physicalization of that moment in the story.

DAY 4
This was the day I joined the BOY ABOUT TEN team and watched some of their process, but I'm told the HARBUR GATE team did some great work on the third section of the play. I'm sorry I missed it. Throughout the entire Lab week, I was wishing I could be in two places at once.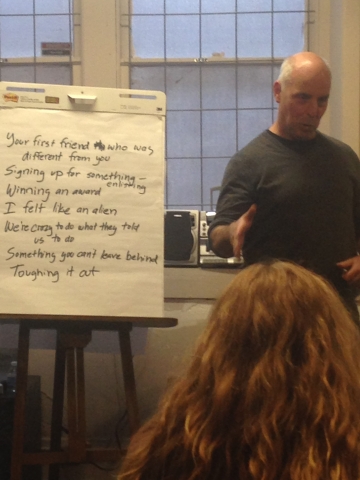 DAY 5
Bill Harley spent some time with the cast, asking them to recall a story from their life. The story had to incorporate all five senses and they had to tell it to one other person. Then they repeated the same exercise, but in character and the story had to be of the moment they decided to enlist. Bill is an incredible story teller and emphasized that the most active, interesting way to tell a story is to experience it as you're telling it.

We also spent a lot of time putting the second section of HARBUR GATE on its feet. The action of this piece takes place in a convoy truck travelling from Harbur Gate to Mosul with some magical realism sprinkled in toward the end. One of Kathleen's biggest questions was about this section and if it would be clear to an audience. We shared this section with the rest of the company in the evening, and when asked to describe what had happened in the piece, they understood it beautifully. Success!

We closed out the Lab by circling up, talking about what we loved and what we can do in the future, and then Bill Harley played his guitar and we all sang "Build Me Up, Buttercup" and "My Girl" and other 60s hits before heading out to Wasatch Brew Pub to toast to an excellent week of work.