by Hayden Warzek
Okay... You got me. I am a republican working among a literal sea of blue in Salt Lake Acting Company. I might as well be a spy for Ted Cruz or the Bush's. Working among a very liberal group within SLAC isn't a challenge though. I have had some political discussions with coworkers and other actors, but the extent of my "republicanism" (is that even a word?) doesn't reach far beyond the writers asking me random facts about the anatomy of guns and rifles... So it's safe to say I haven't had too many run-ins with the donkeys. I, in fact enjoy working in such a diverse group.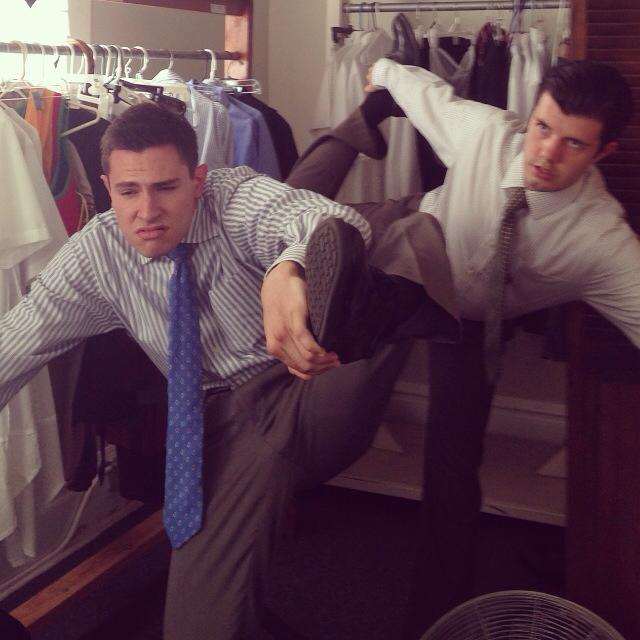 As I remember coming into last year's Voyeur process (yes, I am a voyeur vet!) I was not at all expecting a political show, or even a show that bashes Mormons as this one does. I had never seen Voyeur or heard of what the show tries to poke fun at (yeah I kinda just wanted the paycheck, sue me) but as the show was rehearsed I realized I was in a VERY liberal show and had invited my VERY republican mother to fly out to see it once it opened. Thank god for the theatre allowing alcohol because my mother was absolutely plastered at table AA. But, overall I don't mind what the message is. Voyeur is supposed to be a good time. Light hearted fun for everyone to enjoy. There is no real reason to get butt hurt over petty political jokes like some people are when seeing this show. As the last year's finale stated... LET IT GO.
I have been asked if anything in Saturdays Voyeur offends me, and nothing really does. Having a good ol' chuckle at yourself sometimes doesn't harm a thing. Everything is in good fun and both political parties have their "oh shit are you fucking kidding me?" moments. Like, I'm not going to agree that we should all go buy timeshares while listening to Amy Grant just because Ronald Reagan said so. I would consider myself fiscally conservative but yet a social liberal, and yes I have had people say "well no you can't do that"... Well guess what, I fucking can and I did and my views are my views. I believe in humans rights, especially when we bust out the megaphones during the Pride Festival. I mean, have you seen those things? I'm a loud, Texan individual in general, give me a megaphone and I'm in heaven with the rest of my Catholic breed. Also, as time goes on in the rehearsal process, I'm not alienated by the cast at all. I love the people I work with and we have no issues. I have many types of friends and nobody seems to make fun of me, except that plain, nasty woman, Olivia. Other than that, nobody makes fun of me for being red, it a'int like I have a lisp or tiny boobs. Can you imagine?
PS -still not a fan of the Mormon Church though... like omg what?
PPS – Reagan Bush 84'