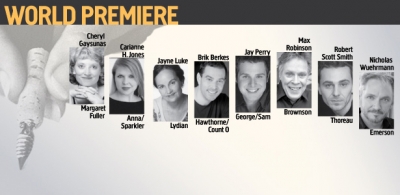 By Kathleen Cahill
World Premiere
April 14 - May 9
Directed by Meg Gibson
"The humor of Charm is what captivates me. The characters' comic take on their exasperation with that society and its endless rules is what I love. Something had to break and not just a woman's heart for the umpteenth time. I'm humbled by how bad it was for we girls - how far we've come - and aware of frankly, how far we still have to go. The difficulties are just subtler. I never thought I could direct in this lifetime. It was a dream I discarded at 18. I was convinced it was a man's job. Here I am halfway through my life and I'm directing theatre. I think of what Margaret Fuller (19th century feminist, subject of Charm) had to wade through and what I have had to do and there is really no comparison. Her neck was way further out than mine is. And, yet, I do know to the bone how she felt. Like Margaret I know the only way to get on is to have a miraculous tenacity, a hunger for life. I get to renew that quest with Charm."
--Meg Gibson
Sponsored in part by an Edgerton Foundation New American Play Award.
More...